Synopsis
Tatum Elliot is a successful writer on a hit television show, lives in an Upper East Side apartment and loves her life. She wouldn't change a thing. Unfortunately, she doesn't have a choice. She's losing her sight.
Tripping over her tongue and her heels, Tatum all too quickly realizes that the things which appeared so important before are slowly slipping away leaving room for what really matters. With the support of her best friends, family and colleagues, she begins to see that there's much more to life… and herself.
When Ben Harris enters her life as her new personal assistant, she can't tell if it's his good looks and charm that are working on her libido, or his kind and helpful nature working on her heart? Whatever it is, neither one of them can resist it.
As her vision fades out, a world of love and happiness just might…Fade In.
Fade In is a contemporary-romance novel about laughing through your tears and telling life to, quite frankly, "Suck it." This novel contains sexual situations that the author may or may not have tried at home… for your safety, of course. Research is research.
My Review
Such a great debut novel!!!
Tatum is a spitfire and a force to be reckoned with. She's got an amazing job, great friends and a wonderful brother. Everything seems so great for her on the outside, but on the inside she's anything but great. She's slowly loosing her sight.
To help her with her busy schedule and to help with her evolving condition, Tatum decides to hire a personal assistant. She was not expecting that assistant to be in the form of Ben Harris.
"What time is it? Who is this guy? Why does he think he's late? How in the hell do I get his shirt off?"
Attraction at first sight is an understatement! They couldn't get enough of each other.
"Is this a swoon? Am I thirteen again?"
As their relationship grows, so does Tatum's apprehension. Ben is her assistant. She can't have feelings for him. Why would he want to be with someone who eventually won't be able see him?
"You don't have to say anything. Don't think that this is an offer that will expire. It won't. When you're ready for me, I'll still be here. I'm a patient man, baby."
Yeah, Ben made me swoon too, Tatum!! He was so patient with her. I kinda wanted him to take care of me! Haha!
"Tatum, just because something's in the dark doesn't mean it won't shine."
But will love prevail? Can Ben break down all Tatum's defenses?
"I'm a blind fool-in more ways than one."
This book had as many funny moments as it did emotional. I loved Tatum and Ben so much! Their nicknames for each other (Benny and Baby) were adorable. Also, I really liked Winnie and Cooper. Oh, I so laughed about that! Winnie Cooper. Get it? ;)
Like I said, great debut novel! I can't wait for more books by M. Mabie.
"Sometimes a few things have to fade out to make room for better ones to Fade In."
Buy Links
About M. Mabie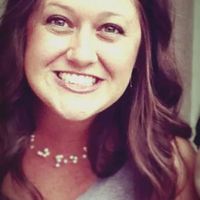 M. Mabie lives in Illinois, NOT Chicago, with her husband. She loves writing for Fifty5Cents Book Blog, which she owns and operates, usually poorly.
She cares about politics, but won't discuss them in public. She uses the same fork at every meal, watches Wayne's World while cleaning, and lets her dog sleep on her head.
M. Mabie has never been accused of being tight lipped or shy. She's THAT girl.
(She doesn't usually speak in third-person, but surprisingly does when she's weirded-out about writing her bio.)
Signup for my mailing list:
http://eepurl.com/RTbLP
Like me on Facebook:
http://www.Facebook.com/AuthorMMabie
Follow me on Twitter:
http://www.twitter.com/AuthorMMabie
Like my Amazon Author Page:
http://www.amazon.com/M.-Mabie/e/B00J...