Loving Mr. Daniels by Brittainy C. Cherry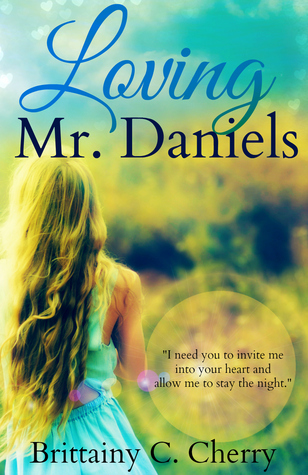 It was easy to call us forbidden and harder to call us soulmates. Yet I believed we were both. Forbidden soulmates.
When I arrived to Edgewood, Wisconsin I didn't plan to find him. I didn't plan to stumble into Joe's bar and have Daniel's music stir up my emotions. I had no clue that his voice would make my hurts forget their own sorrow. I had no idea that my happiness would remember its own bliss.
When I started senior year at my new school, I wasn't prepared to call him Mr. Daniels, but sometimes life happens at the wrong time for all the right reasons.
Our love story wasn't only about the physical connection.
It was about family. It was about loss. It was about being alive. It was silly. It was painful. It was mourning. It was laughter.
My Review
"You're ok."
"I'm ok."
Let me start this review by saying this...grab a box of tissues and some chocolate before reading this book! You will need them both! I have never read such a profound book. The tragedy and heartache is just as powerful as the love and devotion of these two characters.
"I was convinced that everyone in the world had a form of weirdness to them. And the cool thing, at least I hoped so, was the idea that there was someone out there just as quirky as you were. The idea of finding your other weirdo was so attractive to me."
Ashlyn and Daniel are quickly attracted to each other, but they soon find out that they can't be together. But how can you just walk away from this? They both had experienced more tragedy in just a few short years than most do in a life time. They find comfort in each other when the world around them is crumbling.
"I want to be yours, I want you to be mine, and I hate that we can't be us. Because I think we were meant to be us."
This story took you on so many twists and turns. Every single character stood out and had a story of their own. That was the beauty in Brittainy's writing. Just when you thought another story couldn't be told...BAM!
"I'm not afraid of loosing you. I'm more afraid of loosing me. Don't make me choose. Because I'll chose you."
Between the Shakespeare quoting, double words, beautiful lyrics, finding your true friends, remembering when and the letters (oh, the letters) this book takes you on an amazing journey. A journey of self discovery, healing and moving on.
"You'll be here? When I find myself?"
"Promise. promise."
Perfection. That's my one word to describe this book.
"And for the first time in forever, I knew that, no matter what-no matter the obstacles in life, no matter the challenges-we would make it. He was my golden, and I was his. Forever forever and always always. We were more than okay."
Buy Links
About the Author
Hi! I'm Brittainy! Join me as we travel through my mind as a Romance Author. This includes such things as my random thoughts, tricks, tips, things I'm learning, things I'm re-learning, things I'm forgetting, and my weird ways of crafting stories.
http://www.brittainycherry.wordpress.com/