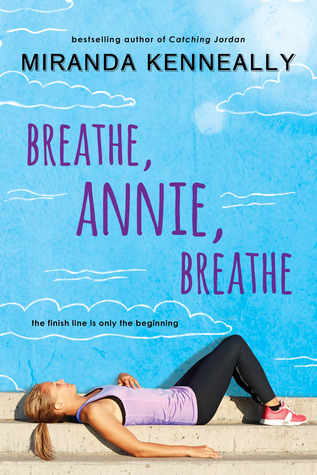 Breathe, Annie, Breathe by Miranda Kenneally
(Hundred Oaks #5)
Published by: Sourcebooks Fire
Publication date: July 15th 2014
Genres: Contemporary, Young Adult
Annie hates running. No matter how far she jogs, she can't escape the guilt that if she hadn't broken up with Kyle, he might still be alive. So to honor his memory, she starts preparing for the marathon he intended to race.
But the training is even more grueling than Annie could have imagined. Despite her coaching, she's at war with her body, her mind—and her heart. With every mile that athletic Jeremiah cheers her on, she grows more conflicted. She wants to run into his arms…and sprint in the opposite direction. For Annie, opening up to love again may be even more of a challenge than crossing the finish line.
"Breathe, Annie, Breathe is an emotional, heartfelt, and beautiful story about finding yourself after loss and learning to love. It gave me so many feels. Her best book yet." — Jennifer Armentrout, New York Times bestselling author of Wait for You.
I read an early version of this book and absolutely adored it. There's so much emotion in the pages. Annie is a brave, determined girl, and she learns a lot about life and herself throughout the book. It's a lovely journey, and I hope you'll check it out. :)
Growing up in Tennessee, Miranda Kenneally dreamed of becoming an Atlanta Brave, a country singer (cliché!), or a UN interpreter. Instead she writes, and works for the State Department in Washington, D.C., where George W. Bush once used her shoulder as an armrest. Miranda loves Twitter, Star Trek and her husband.