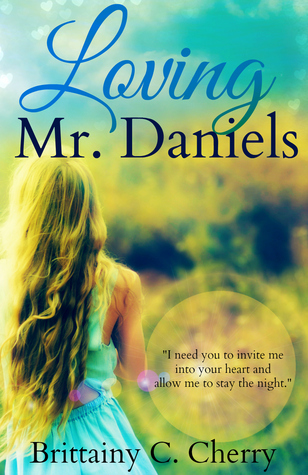 Pub Date: May 12, 2014
Publisher: Brittainy C. Cherry
To Whom it May Concern,
It was easy to call us forbidden and harder to call us soulmates. Yet I believed we were both. Forbidden soulmates.
When I arrived to Edgewood, Wisconsin I didn't plan to find him. I didn't plan to stumble into Joe's bar and have Daniel's music stir up my emotions. I had no clue that his voice would make my hurts forget their own sorrow. I had no idea that my happiness would remember its own bliss.
When I started senior year at my new school, I wasn't prepared to call him Mr. Daniels, but sometimes life happens at the wrong time for all the right reasons.
Our love story wasn't only about the physical connection.
It was about family. It was about loss. It was about being alive. It was silly. It was painful. It was mourning. It was laughter.
It was ours.
And for those reasons alone, I would never apologize for loving Mr. Daniels.
-Ashlyn Jennings
Brittainy C. Cherry has been madly in love with words since the day she took her first breath--okay maybe not THAT long, but pretty darn close! She lives in Wisconsin with her loved ones and she adores a great romance. Her debut novel, The Space in Between, released August 9th, 2013 and she has many more stories in the works! Other hobbies she loves include: screenwriting, acting, dancing (poorly of course!). Coffee, chai tea, and wine are three staples that she believes everyone should invest in! It's also a known fact that whenever Brittainy is trying to write there is a fur baby or two begging for hugs and kisses--which she gives the spoiled animals of course!
Find Brittainy: