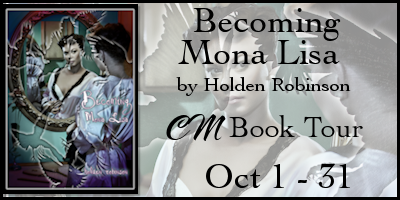 Holden Robinson
-
Becoming Mona Lisa
• Pub Date: May 31, 2012
• Publisher: Black Rose Writing
• Format: Paperback/Ebook, 234 pp
• Age Range: Adult

We are not invisible because the world does not see us. We become invisible when we can no longer see ourselves. In a moment of epiphany, Mona Lisa Siggs, scratches a poignant quote on a lavender envelope. Faced with the daunting choice of saving her marriage, or killing her husband - which modern forensics has made nearly impossible to get away with - Mona decides to make one final effort to rekindle a relationship seriously on the skids. Cue the birds. Hours into their reconciliation, Mona and her husband Tom, find themselves surrounded by hundreds of crows who have made their home in Aunt Ida's trees. With the help of brother-in-law Robbie, the duo find themselves engaged in radical crow relocation methods. Effort leads to mayhem for the Siggs, as they dodge bird goo, a crazy neighbor armed with a potato gun, and local law enforcement. From the chaos, lessons emerge, those that save a relationship, and shape a life. Becoming Mona Lisa is a delightful story of love and self-discovery, delivered with side-splitting laughter.
Excerpt from Becoming Mona Lisa
"The Greatest Treasures."
Blog excerpt by Mona Lisa Siggs
If you want to see beauty in its purest form, watch two people fall in love. Falling in love is a miracle, and a curiosity of sorts. What, if not love, will prompt a woman to eat an apple and convince herself it is better than cheesecake? What, if not love, will compel a woman to ride a stationary bicycle and believe it is more satisfying than an hour of prime time television and a just-delivered Joe's pizza with extra cheese?
Falling in love is a miracle.
Falling out of love is a tragedy.
I know.
I've done both.
Holden Robinson, born Catherine Ann Holden resides in upstate New York, in the land of trees, road construction, snow belts, and four seasons. Robinson is a passionate animal activist, and shares her life with six four-legged children. Robinson aspires to merge her love for writing with her love of activism, and is at work on a poignant animal rescue story titled, And Her Name Shall Be Beloved.




Find Holden: