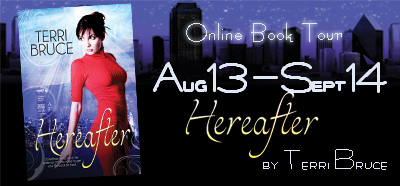 Terri Bruce
-
Hereafter
• Pub Date: August 1, 2012
• Publisher: Eternal Press
• Format: ebook, 352 pages
• Age Range: Adult

Thirty-six-year-old Irene Dunphy didn't plan on dying any time soon, but that's exactly what happens when she makes the mistake of getting behind the wheel after a night bar-hopping with friends. She finds herself stranded on earth as a ghost, where the food has no taste, the alcohol doesn't get you drunk, and the sex...well, let's just say "don't bother." To make matters worse, the only person who can see her—courtesy of a book he found in his school library—is a fourteen-year-old boy genius obsessed with the afterlife.

This sounds suspiciously like hell to Irene, so she prepares to strike out for the Great Beyond. The only problem is that, while this side has exorcism, ghost repellents, and soul devouring demons, the other side has three-headed hell hounds, final judgment, and eternal torment. If only there was a third option…
Top Ten Books Featuring Ghosts and/or the Afterlife
by Terri Bruce
Hell Bound Train by Robert Bloch
Okay, this is not exactly ghosts so much as "the dead," and this is a short story, not a novel, but still, this is one of my all-time favorite depictions of the afterlife. I found this story in Alfred Hitchcock's "Witches Brew," a collection of spooky supernatural tales for young readers, when I was a kid and it has stayed with me ever since. The Hell Bound Train tells the story of Martin, a young man who makes a deal with the devil—a pocket watch that stops time in exchange for boarding the "hell-bound train" when he dies. Martin spends his entire life searching for one perfect moment in which to stop time but never finds it. When the devil comes to collect, Martin finally finds the perfect moment—the train ride to hell. He stops time and that villainous company of murderers, thieves, gamblers, perjurers, and other assorted scoundrels are stuck riding the hell-bound train forever.
Legend by Jude Deveraux
This might be my all-time favorite romance novel because it has the most amazing twists and turns—it's almost more of an action-adventure or paranormal fantasy than a love story. Just as the reader becomes invested in the blossoming romance between the two main characters, one of whom has traveled back in time, we find out the love interest is dead AND a six year old boy imagining that he's grown up who then disappears, returning the other main character to her own time. The story then takes a sharp, 90-degree turn into a contemporary romance story before taking another 90-degree turn into a comedic action-adventure story before taking another sharp turn into a time travel fantasy. Certainly one of the most unusual portrayals of a ghost that I have ever seen!
Pyramids by Terry Pratchett
Imagine if Hamlet's father's ghost hung around offering snarky commentary on his son's actions rather than moving on and you have this book in a nutshell. Hysterically funny, this book also poses the interesting question: what if the pyramids actually trapped the spirits of the dead buried inside here on earth instead of ushering them to the other side. How angry would the spirits be after being locked in a dark, stone tomb for hundreds or even thousands of years? Turns out, pretty damn angry!
Harry Potter Series by J.K. Rowling
J.K. Rowling might have best captured the living's attitude toward the dead if we knew for a fact that ghosts were hanging around—vaguely unsettled and mostly trying to ignore them—and the dead's attitude to being stuck here—mildly embarrassed and solicitous of trying to stay out of the living's way. The relationship between the living and the dead at Hogwarts is deliciously awkward and entirely believable!
The Changeover by Margaret Mahy
Now, here is another book that is not actually about ghosts or technically, the afterlife; however, the 1985 Scholastic Mass Market Paperback edition cover makes it look like the male character, Sorry, is a ghost (or maybe an angel), so I'm counting this one here because that's what I thought when I originally bought.  I loved this book as a teen and it still remains one of my favorite books to this day.
Autumn Bridge by Takashi Matsuoka
Another story in which the supernatural character in question is not actually a ghost, per se. No one is really sure what Lady Shizuka is; is she a ghost? A "witch-seer" who can connect through time with members of the Okumichi clan? Something else? It's never really clear what she is, but it hardly matters. The story is beautiful and here we have a fabulous version of a "ghost" who is not trying to finish up his/her earthly affairs in order to open the way to the afterlife or seeking redemption for mistakes made in life. A fresh and interesting take on "ghosts" embedded in a beautiful story.
Peony in Love by Lisa See
I LOVE Chinese afterlife mythology (as you can probably tell by the prominent role it plays in Hereafter) and this book is a shining example of a work of fiction that incorporates so many of these beliefs. The main character dies and becomes a "Hungry Ghost," hanging around and haunting her relations. When she is finally offered the proper funerary rights, she is able to move on, to await the day when she will, at last, get to be with her husband. During her stay on earth as a ghost, we get to see Chinese afterlife mythology/customs/rituals from both sides—from that of the living and from that of the dead—which is an interesting and unique depiction.
Wuthering Heights by Emily Bronte
One of my all-time favorite books, Wuthering Heights has a special place in my heart. While the "ghost" may or may not be real, and doesn't even make an appearance until the end of the book, Catherine's larger than life presence is felt throughout the story, providing the moody atmosphere for the quintessential dark, gothic romance.
His Dark Materials Series by Philip Pullman
The scenes set in the land of the dead are some of the most heart-rending and terrifying that I have ever read. From the idea of each person's "death" being an honored friend who hangs around with the person, to the idea that the dead need to pay for passage through the land of the dead with stories from their life, to the comforting notion that we eventually rejoin our loved ones as some kind of formless energy, Philip Pullman's vision of the afterlife has made the greatest impression on me. The idea that the stories from my life will not be good enough to satisfy the Harpies—in case Pullman turns out to be right—is always hovering in the back of my mind, pushing me to make sure I'm actually living life and collecting stories, instead of sitting back and watching it go by.
A Christmas Carol by Charles Dickens
With more ghosts than you can shake a fist at, we have pretty much the entire spectrum of ghosts right here in one story—the condemned sinner seeking redemption in the afterlife, "spirits" that aren't necessarily deceased humans, and the completely terrifying. A little bit of everything all in one story!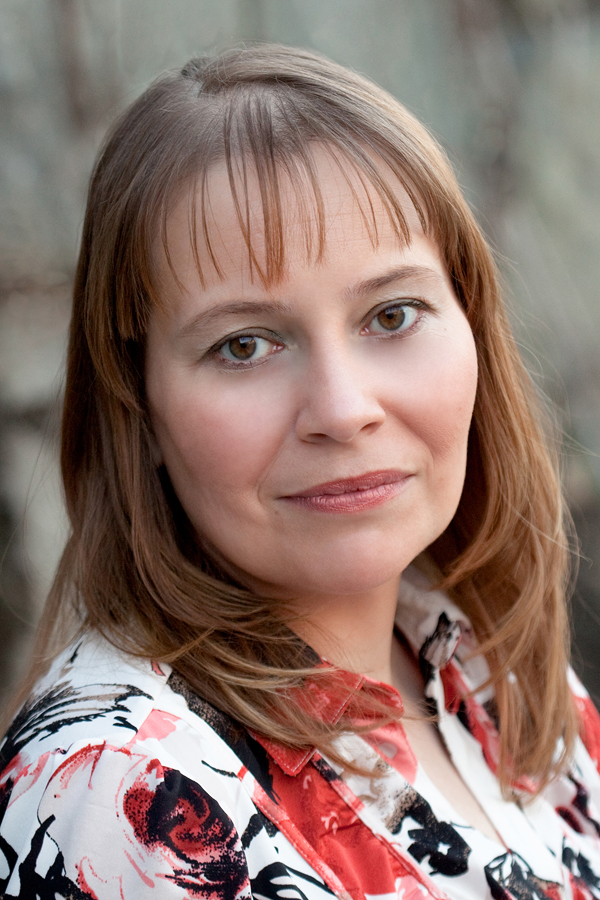 Terri Bruce has been making up adventure stories for as long as she can remember and won her first writing award when she was twelve. Like Anne Shirley, she prefers to make people cry rather than laugh, but is happy if she can do either. She produces fantasy and adventure stories from a haunted house in New England where she lives with her husband and three cats.




Terri loves to hear from fans. To contact her directly, please email tbruce(at)terribruce(dot)net. Requests for interviews and appearances may also be sent directly to her.
Find Terri:
Enter below through the Rafflecopter form for a chance to win a $10 Amazon Gift Card!! This is an international giveaway, so all are welcome to enter :o) Ends 8/22/2012. Prize provided by the author. Questions? Email me at imabookshark at yahoo. Thanks and good luck!
a Rafflecopter giveaway