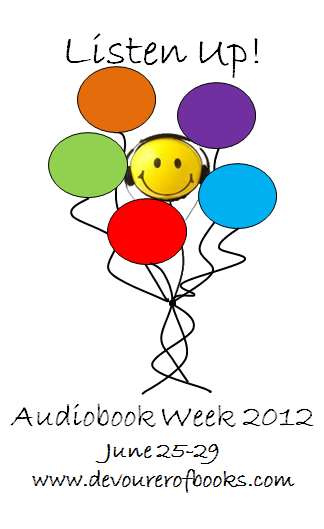 Day FIVE! This is it, guys! The final day of Audio Book Week. But don't forget! It's Audio Book MONTH until the end of June :o) Hope you all enjoy what I have in store for you today!!
Today's Discussion Topic: Listen Up!
I learn about my great audio book topics by just finding books I want to read in general and seeing if they're on audio. Basically anything on my TBR is fair game for audio. I don't like to switch methods, so if I've started listening to a series, I'll usually continue that way. And if I'm reading it, I may try the audio if I can find it, but I usually stick with the same method. I get mine from my local library, occasionally on Audible.com, and through the library's online catalog. The library is really the best place to look. Hopefully your local branch has a good selection!!
And now.. for my final narrator interview, I bring you Lorelei King! When I think of Lorelei King, I think of some fantastic novel characters: Charley Davidson, Stephanie Plum, Lula, and Mercy Thompson among others. She has a fantastic range and great voices. If you haven't tried audio books, she's a good place to start. Enjoy!!
Mickey
: Hi there Lorelei King! Welcome to Audio Book Week on the blog! Please introduce yourself.
Lorelei
: Hi Mickey! I'm glad to be here. I'm a Pittsburgh girl who now lives in London – actress, writer, narrator and – more recently – publisher. Lover of ancient Greek, cats, wit, good wine, country music and my husband – not necessarily in that order. I count my blessings every day and can't believe how very lucky I am to work in the industry I love.
Mickey
: I don't want to fangirl too much here, but I'll listen to books just because you read them. Even if it's completely outside my comfort zone, if your name is on the narrator line, I'll give it a shot. How did you get started in book narration?
Lorelei
: Oh, I love that you're fangirl about it! Audiobook fans are the best, most supportive fans in the world. And they have impeccable taste, obviously. As to how I got started in narration: There was an English producer who used to hire me to revoice a lot of European dramas. (I love lip synching – it's one of my favourite things to do. A wonderful mixture of art and science! ) He was asked to produce a series of readings at one point – I think they were horror short stories – and he hired me to do them. In the process, I discovered I had a knack for it. And, as I've often said, I think narration IS a knack. Kind of like being double-jointed.
Mickey
: I'm not going to lie - I love your male voices. How did you discover that you could do them so well?
Lorelei
: BLESS you. My voice is quite low anyway (I've often been mistaken for young man on the phone), so it's not such a stretch. I LOVE doing the male parts – lets me channel my inner guy... he doesn't get out much, otherwise, as I tend to be hellaciously girly.
Mickey
: You're also an actress. Does book narration have the same feel as acing in front of a camera?
Lorelei
: That's an interesting question. Audio is very different from visual acting, in my opinion, except in this respect: the performance has to be very, very 'small' – the microphone, like the camera, will pick up even the subtlest nuance.
Mickey
: How do you choose the books you want to narrate? If it's possible to pick a favorite book you've narrated, what would it be? Or a favorite character you've voiced?
Lorelei
: It would be extremely rare for me to turn down a book, except for reasons of unavailability. I like all kinds of books and am game for pretty much everything – you never know what you might learn. There are a couple of books I wish I HAD turned down – but it wouldn't be very politic of me to say which ones. Those are the ones that made me burst into tears, throw the book across the room, and cry 'IcantdoitIcantdoitICANTDOIT!!!' (But of course I did do it in the end – I'm easily bribed with sweets...). And there were two books I thought about quite carefully before accepting. One was a book of pornography by Anais Nin and one was a book about the serial killer Ted Bundy. In the end, I decided to do both of them: the Anais Nin because it was so beautifully written, and the one on Ted Bundy in order to remember and honour his victims.
I think my favourite book is always the one I'm narrating at the moment – but hands down my favourite character ever to voice is Lula from Janet Evanovich's fantastic Stephanie Plum series. Lula's fabulous and I love her to bits.
Mickey
: Are you a reader at all in your spare time? Do you have a favorite genre of book you like to read outside of narrating them?
Lorelei
: I love, love, love to read – and always have – but unfortunately my job means that I have little time for 'leisure' reading. When I do have a minute, I'm partial to horror, ghost stories and crime.
Mickey
: You're probably most well known for your work on the Stephanie Plum series. How awesome is it to create all those different voices for characters people have known and loved for years?
Lorelei
: Oh, I hope people love them! I certainly love voicing them and they're like family to me now. Janet Evanovich is brilliant at conveying character in her writing, so she does the heavy lifting for me. I just swan in, pick up her clues, and run with them. Having said that, things do arise – when I first started recording the series way back when, I just assumed Ranger had a Cuban accent. Then somewhere in the 'teens we discovered that he had no accent! As I had established his voice already, I kept his accent – but it seems to get less strong with each book.
Mickey
: This may be a silly question, but how do you keep all the different voices for different characters straight? Is it just getting back into character, or do you have a different system?
Lorelei
: It's not a silly question at all! It's actually easier than you think – in a long-running series (like those written by Janet Evanovich, Patricia Briggs or Darynda Jones) the characters have a life of their own and they just seem to pop up when they're needed. If I'm less familiar with a book, a glance at my cast list (on which I keep shorthand notes about the kind of voice I'm using for each character) will keep me on track.
Mickey
: Is there a book out there that you didn't get to narrate but wish you did?
Lorelei
: Oh, many! I would love to have recorded Angelology – Bulgarian, Latin, Catholicism... right up my street! And I deeply regret that I never recorded Geek Love – it has the MOST extraordinary cast of characters....
Mickey
: Thank you SO much for being on the blog for Audio Book Week! Any parting thoughts?
Lorelei
: Just that I'm so pleased with the popularity of audiobooks. Only a few years ago, people were saying that the audiobook market had peaked and could only decline. Digital has changed all that – audio is now cheaper and more widely available than ever. Oh! And I'd ask people to say 'hi' to me on Twitter and to please go like my Facebook pro page www.facebook.com/LoreleiKing – because I'm not above begging! I'd also love people to check out the publishing company I co-own with audio producer Ali Muirden www.creativecontentdigital.com – we're a new company, but we're loving the digital age!
Lorelei King is best known as an actress, appearing in numerous films from Hollywood blockbusters such as 'Notting Hill' and 'The Saint,' to British independent films, such as 'House of Mirth,' '24 Hours in London,' and 'Suzie Gold.' She has appeared as regular and recurring characters in popular British television shows such as Chef, Cold Feet, and Emmerdale. She has also made numerous guest appearances in British comedies and dramas such as Jonathan Creek and Monarch of the Glen.

Once described as 'the best known American voice on radio 4,' Lorelei has recorded more than 200 programs for the BBC, including the Marx Brothers tribute, 'Flywheel, Shyster and Flywheel,' super-hero 'audio movies' including 'Superman,' 'Batman' and 'Judge Dredd and classic American drama such as 'East of Eden,' 'Ethan Frome' and 'A Thousand Acres.' She appears regularly as a panellist on shows such as 'Where in the World' and 'Wordly Wise' and has hosted her own talk show, 'All About Eve.'

Lorelei is a multi-award-winning narrator of audio books, recording the works of best-selling authors Janet Evanovich, Sue Grafton and Patricia Cornwell among others.
Find Lorelei: