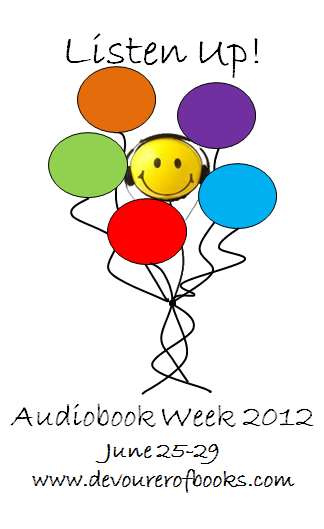 It's day four of audio book week!! Great stuff today, you guys! I have an interview with Johanna Parker as part of my audio book narrator interview series, and I have the Thursday discussion question! Here it goes :o)
Today's Discussion Topic: What Makes a Good Narrator?
To me, a good narrator connects the readers to the story completely. Narrators who can change their voices to make each character in an audio book unique makes audios so much more pleasurable and so much easier to listen to. A good narrator makes the book interesting with the voices used, really engages the reader, and still lets the reader use his/her imagination. But even the best narrator can't save a bad book.. just sayin'. ;o)
Alright, you guys. I'm bringing you the voice of Sookie Stackhouse today!! Johanna Parker narrates Charlaine Harris's Southern Vampire series among many great others. Here's the awesome interview we did! Hope you all enjoy :o)
Mickey
: Hello Johanna Parker! Welcome to Audio Book Week on the blog! Please introduce yourself.
Johanna: Thanks for having me Mickey. I love your blog and am very happy to be here. I'm an Audie and Earphones winning audiobook narrator, and I've recorded nearly 100 titles so far. Although I've appeared on stage and screen, I love working solely with my voice. Telling stories, in whatever way, has always been my passion, and audiobook narration has become the unexpected niche where my love of books and my love of storytelling come together in an incredible, inevitable fusion. I get to play all the parts. I get to truly utilize my training. And my hair can look like $#!&*!
Mickey
: You've narrated many books, including the Sookie Stackhouse series by Charlaine Harris. How awesome is it to be the voice of Sookie, Bill, Eric, and all the others?
Johanna
: Sookie speaks to me in a way no character ever has. It took me a book or two to really inhabit her, but once I did, she became a part of me. Every year Charlaine puts out a new book, and every year I get to slip on my short shorts and a Merlotte's t-shirt and date sexy guys and go on crazy adventures! I relate to her in so many ways--her strength and vulnerability, her sense of humor, lack of trust mixed with deep romanticism and hope. Charlaine has created an epic character and I feel so lucky to have been able to take the ride with her.
Narrating Bill and Eric has been interesting. I researched and then went with my gut on their vocal patterns and dialects and probably would've tweaked both of them later if I could have. But once you set a character, you pretty much owe it to your audience to keep it consistent. True Blood came out about halfway through my recording of the series and once I heard Stephen Moyer's interpretation of Bill, I was so jealous! He nailed it. Still, I feel like I have lived with these guys for so long that I have a certain grasp of their essences and relish journeying their character arcs. When I first began researching Eric's origins, I found out there is no way of knowing how Vikings actually sounded, just educated guesses. It's a good break when you can say, well, he's lived all over the map for 1000 years, he was a Viking, he's a vampire, this is how he talks and you can't bust me for my dialect!
Mickey
: How do you come up with the different voices for different characters?
Johanna
: I'd say my method is research, research, research and then let it all go and trust my instincts. I record people's voices all the time. On the radio, in the store, wherever I can. Accents, tones, timbres are all good to have on file. I start with researching where they're from, their backgrounds, if I'm privy to that information. I also often try to cast them. I'll go to Youtube and, if , say, I picture this one guy like a Tommy Lee Jones type, I'll watch/listen to a bunch of Tommy Lee. Then I'll sift all that through my own instrument and see what happens. It can be really frustrating to hear it in my head a certain way and not be able to match that with my mouth. (I'm sure listeners have the same complaint!) But usually, it's how I want it to sound. I surprise myself, disappoint myself, impress myself and annoy myself. Once in awhile, I'll get stuck towards the middle of a book when more and more new characters arise and wait till I'm actually recording to find the person! I had to play a dachshund in a Rita Mae Brown book and was struggling with his voice all through my prep. Finally I stumbled on some old 1950's Superman footage and Jimmy's voice was it! I had my spunky weiner dog's voice. While I'm recording, I keep all the voices on my Iphone and refer to them if I need to.
Mickey
: Besides reading adult novels, you've narrated Meg Cabot's young adult Mediator series (which I also enjoyed). Does it make a big difference on your narrating style when you're reading for a different age group?
Johanna
: I love that series! God, she's a wonderful writer. And Suze was so up my alley. One of my fans bought me Disneyland glasses with her name etched on them! Young adult books have become so popular with adult readers now, there's less of a clear delineation between the two genres. I found much of the young adult fiction I was reading rivaled the adult fiction in so many ways. For the Mediator books, I listened to old recordings of myself (yes, I began reading into a mic at a very young age) at 15 years old. And maybe watched some Breakfast Club clips, etc. Just try to plumb the depths of tween or teenhood as much as I can. This does not necessarily mean I go up an octave or two or lift each sentence like a question or make other obvious choices. I think many casting directors and actors stereotype all teens as having high pitched squeaky innocent voices. Well, it's just not so. 15 year olds can have a world weariness far beyond their years. So avoid stereotypes but immerse myself in the world as much as possible---pretty much like any book.
Mickey
: If it's possible to pick a favorite book you've narrated, what would it be? Do you have a favorite character you've voiced?
Johanna
: Aww, so tough. Sookie is definitely my favorite character. I especially loved Dead to the World, where Eric loses his memory. So much fun to tackle that. Suze is a close second. I recorded a section of Let the Great World Spin by Collum McCann and think it is some of my best work. The Rebel Wife by Taylor Polites was an amazing challenge to narrate. He is brilliant! Sorry, couldn't pick.
Mickey
: Are you a reader at all in your spare time? Do you have a favorite genre of book you like to read outside of narrating them?
Johanna
: Yes! I love books. As I'm typing this, I overheard my neighbor stating to a friend that she hates books, never reads. That floors me, almost hurts me. How can someone say that? I have loved books long before I could read them myself and I will love them long past the time I can only listen to them. They helped form my moral core, my sense of humor, my understanding of the world. It is my greatest honor to be able to read them aloud and get paid for it! In my spare time, I read all sorts of things. I have a pile of New Yorker magazines I pore through periodically. Straight up fiction has always been a go-to genre for me but non-fiction occupies a lot of my time as well. Right now I'm reading The Mastery of Love by Don Miguel Ruiz and I've recently had the honor of reading my father's first novel which is truly brilliant. A 72 year old former Marine finally doing what he was meant to do! Gerard Parker, look out for him!
Mickey
: Is there a book out there that you didn't get to narrate but wish you did?
Johanna
: I wasn't a narrator yet when it was cast, but The Lovely Bones by Alice Sebold is the one that got away. Franny and Zooey! Has that been recorded? To narrate Salinger or Sebold or Cormac McCarthy...I can dream.
Mickey
: If you could pick any of the authors you've narrated books for, who would you choose to write your biography?
Johanna
: Taylor Polites because he's a tireless researcher and I'd want them to get it right!
Mickey
: Do you have any pre-recording rituals?
Johanna
: Oh yeah! Boy, do I. I didn't put many of them in my Youtube video,
Inside the Studio with Audiobook Narrator Johanna Parker
,
because my dad said it made me look like a flaky California New Age actory weirdo. :)
But here's the truth: I do yoga, I have rosemary, lavender and peppermint essential oil I take in the booth. I take a little homeopathic stage fright stuff if I'm feeling jittery. It's probably like Dumbo's feather, sugar pill-esque, but why not. I have lip stuff, throat stuff, eye stuff.
I prep, prep, prep the words. I'll often go over the pages I'll record that day with a fine-tooth comb. And I do a vocal warm-up either at home or in the car on the way to the studio. Mostly I sing. Loud. It's the quickest and dirtiest way to warm up. And tongue twisters of course!
I'm not a pheasant plucker,
I'm a pheasant pluckers son.
And I'm only plucking pheasants
'till the pheasant plucker comes.
Mickey
: Thanks so much for being here during Audio Book Week! Any parting thoughts?
Johanna
: Keep listening. Keep supporting narrators and writers you love. Keep reading. It's a lonely little world an audiobook narrator inhabits and it's lovely when listeners or writer/listeners like yourself, Mickey, reach out and let us know what you think. I always picture the faces of the listeners I've met when I'm in the booth. That audience connection is still vital to the art form. So thanks so much for supporting audiobooks and the people who bring them to life.
Johanna Parker, an AudioFile Earphones Award winner, has earned an esteemed Audie Award and three Audie nominations. She has received high praise for her work in all genres, including her portrayal of Sookie Stackhouse in Charlaine Harris's Southern Vampire Mysteries series (the source material for HBO's True Blood), of which AudioFile has said, "Parker personifies Harris's perky Southern heroine, Sookie Stackhouse. Her splendid pacing allows listeners time to absorb the action and emotion. Listeners will be enthralled."


Find Johanna: