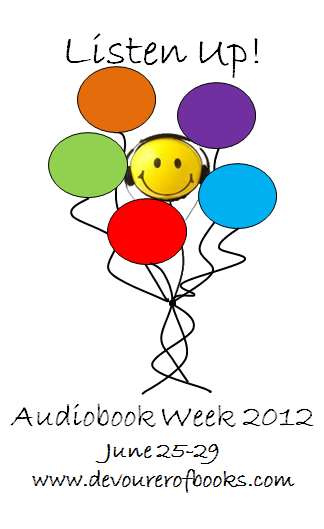 Welcome to day three of Audio Book Week! I hope you have all been enjoying each day. Just like the first two days, I have a spectacular narrator interview today! And it's the midweek meme day, so check that out as well. Thanks all!
Today's Topic: Mid-week Audiobook Week Meme
Current audio book: Janet Evanovich - Wicked Business
Impressions: LOVE it! The writing is funny, and Lorelei King always narrates at top notch.
Current/most recent favorite audio book: Libba Bray's Beauty Queens or Jodi Picoult's Sing You Home.
Favorite narrator you've most recently discovered: Check out all my narrator interviews for my favorite narrators!!
One title from your TBL stack: Rachel Vincent - Before I Wake!! Can't wait!!
Today's narrator interview is with Tavia Gilbert! If you've enjoyed Jeaniene Frost's Night Huntress series (AKA Cat and Bones - YUM!), then you may want to tune into the audio. Tavia puts a whole new spin on your favorite characters. Here she is giving us some great advice! Check it out :o)
Mickey
: Hi Tavia Gilbert! Welcome to the blog during Audio Book Week! Please introduce yourself.
Tavia
: Hey, Mickey! Thank you so much for this invitation. I'm a multiple Audie nominee and Earphones and Parent's Choice Award-winning producer, narrator, and writer. I've appeared on stage and in film, as well as narrating over 150 multi-cast and solo voice audiobooks. I'm also a singer, a member of an a capella Renaissance choir, and a writer, currently an MFA candidate at Vermont College of Fine Arts, and I'll graduate in January next year with a degree in creative non-fiction.
Mickey
: I'm familiar with your work through the Night Huntress series by Jeaniene Frost. LOVE your voice for Bones! How do you come up with different voices for different characters?
Tavia
: I admit that I do most of my voice creation on the fly, meaning that I don't prepare my voices before production begins. Because I so often record work in my own studio, I have the luxury of a figuring out during the recording session what works, what feels right, and what will be sustainable and pleasurable over a long number of listening hours. I do tinker with the voice until I get it where I want it to be, but most of the creation of character voices is instinctual, and relies on the thoroughness of my reading and contemplation of the story before I start to roll.
Mickey
: You read YA and adult literature as well as non-fiction. Do you have a different approach for each different genre/age range you narrate?
Tavia
: I really don't. I read and prepare my books in the same way, no matter the genre. However, each book is unique, and demands my presence—my complete intellectual, physical, and emotional attention. The words on the page dictate the nuances of my performance, so if I sound like I'm taking a different tactic with each of my books, or through the various genres, it's because that's how the writer's story has guided me to perform.
Mickey
: Do you have any pre-recording rituals?
Tavia
: I fear I'm giving you a terribly boring interview, because my answer here, too, is no! I read the book for the plot, as well as noting wherever the author has given me information that will be relevant to character voice. For example, if the writer has specified a character's idiosyncratic way of speaking or a texture to their voice (gravelly, rasping, etc.) or history in the character's background that would influence the performance details (for example, they were born in NY but spent their childhood in France), I make a note of it. I look up or send out to a researcher all unfamiliar vocabulary. Then I jump in!
Mickey
: If it's possible to pick a favorite book you've narrated, what would it be? Do you have a favorite character you've voiced?
Tavia
: Even though Lamb, by Bonnie Nadzam, is such dark material, and even though it was very, very troubling to perform, the writing was so masterful that I still adored the project. I just recently finished Anna Keesey's Little Century and Emily Chenowith's Hello Goodbye, which were both beautifully written. Stephanie Kallos' Sing Them Home will always be one of my favorites, and Katherine Paterson's The Day of the Pelican. But the characters in Jeaniene Frost's books are probably the most purely fun characters I do. It's always fun to get into a room with them!
Mickey
: Is there a book out there that you didn't get to narrate but wish you did?
Tavia
: I am never to likely narrate The Dark is Rising, by Susan Cooper, because I would be miscast, I'm afraid, but I think that book and series would be absolutely wonderful to work on. It's my favorite series of books from childhood, an astonishing series of very dark moral stories, and captivating to not just young adults, but audiences of all ages.
Mickey
: Are you a reader at all in your spare time? Do you have a favorite genre of book you like to read outside of narrating them?
Tavia
: I've been reading voraciously all my life, and I've also been a narrator for decades, since I read to my mother throughout my childhood and even into my junior high and high school years. She is a lover of language, and it was something special we shared. I read literary fiction, memoir, sociology, and philosophy.
Mickey
: If you could pick any of the authors you've narrated books for, who would you choose to write your biography?
Tavia
: I'm writing it myself! I'm in the final stretch of my MFA studies, and drafting my memoir, which has been a daunting, expansive, challenging, satisfying endeavor. But if someone else was writing my story, I would want Annie Dillard to write it. She is a transcendent, mystical writer.
Mickey
: How did you get into book narration? What is an audition like?
Tavia
: I was determined to make a living as a full-time, professional actor, even from Portland, Maine. The way to realize that dream was audiobook narration, so I set my sights on it and went after it with absolutely all my mind, passion, energy, and drive. I love it, and I have a gift for it. It combines so many skills, drawing on my craft as an actor and a director, my skills as an entrepreneur, my background in the legal field, and my insights as a writer. I rarely audition anymore—most of my work is offered to me—but an audition can be quite fun. It's an opportunity to play and offer up a little gift to the listener or the viewer (if I'm auditioning for stage or on camera work). Then I go on about my day and pretty much forget about it. You have to develop a thick skin and not allow yourself to get too invested in anything until you're actually doing the work. Then you invest yourself entirely.
Mickey
: Thank you SO much for being here today for Audio Book Week! Any final thoughts?
Tavia
: I am so grateful for the listeners who invite me into their lives for hours at a time. I am a long-time audiobook fan, as well as a narrator, so I know how deeply listeners feel about the narrators they love. It's a true honor to be given time and space in someone's life, and I am blessed by all those who allow me be a part of their day. Thanks for listening!
Earphones winner, Audie® finalist, and Parent's Choice Award-winning producer Tavia Gilbert is a classical theater- and public radio-trained actress and audio producer. She lives in Portland, Maine, where she produces, directs, and narrates unique audiobooks, full-cast recordings, and documentaries.