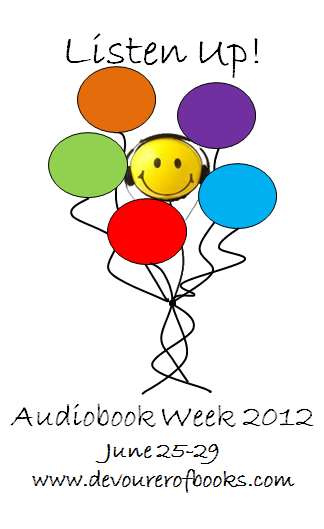 Welcome to day two! I hope you enjoyed yesterday's interview with CJ Critt and my discussion on when I listen and what I listen to!! Today I'm talking about reviewing audio books. Here it goes!
Today's discussion topic: So You Want to Review Audiobooks…
For audio book reviews, it's very important that you actually discuss the audio part. That is what makes it different than a regular book review. Mentioning the narrator's name, the quality of the narration, how distinct the separate voices are.. all of that is important to me. I like to include that kind of information in my reviews somewhere. Even length and format is important to me. So when you write audio book reviews, make sure to not just review the book itself - write up a good bit about what you listened to as well!
My next narrator interview is with the lovely Therese Plummer! She's the voice of Aurora Teagarden in Charlaine Harris's mystery series. Plummer was also a part of my 2011 favorite, Sing You Home, by Jodi Picoult. If you haven't listened to either of those, get on it. Now! Well.. after you read the interview :o)
Mickey
: Hello Therese Plummer! Welcome to Audio Book Week on the blog! Please introduce yourself.
Therese
: Hi Mickey! My name is Therese (pronounced like Perez but with a "T") and am super excited to talk with you. I am an audiobook narrator of young adult and adult books and have been lucky enough to be recording for the last seven years and over 150 titles.
Mickey
: I became familiar with your work when I listened to the Aurora Teagarden series by Charlaine Harris. Do you have any personal feelings about the series separate from being a narrator?
Therese
: I adored portraying Roe in this series by Charlaine Harris. This was written before her "True Blood" series and as such probably has not gotten as much publicity. I found each story to be enough murder/mystery to be entertaining but the character of Roe and the adventures she gets into and out of, well all I can say is that when we finished recording I felt like I was saying goodbye to a really good friend. The supporting characters of her mother and hubby and the others only made the story that much more fun to portray. I remember especially at the end of "A Fool and His Honey" my engineer and I crying in the studio. I don't want to give it away but it was moving. We recorded these back to back and as such it was like 90 days of living and breathing Aurora Teagarden:-)
Mickey
: My absolute favorite audio book from 2011 was Sing You Home by Jodi Picoult. I loved the story and, as always, the narration. How do you feel about participating in a cast of narrators for one novel?
Therese
: I found it exciting and challenging. There is a sense of "control" when portraying all the characters in your books and when I was doing just the chapters from Zoe's perspective there was a sense of isolation from the other chapters. This brought a whole new level and dimension to my work I had not experienced before. A trust and a letting go of the other chapters and performances and completely submerging myself into Zoe. I also loved getting to sing in the book. Jamming out to Janis Joplin was a riot. It was an honor to co-narrate with Mia Barron and Brian Hutchison. I am so glad you liked it.
Mickey
: You read multiple age ranges. Do you have a different approach when narrating YA from when you're reading adult novels?
Therese
: I will disclose that although I am in my thirties I can still tap into my 15-year-old self pretty darn easily. I remember like it was yesterday what it felt like to be 15 and 16 and 17. And thankfully it comes out in my voices:-)
Mickey
: If it's possible to pick a favorite book you've narrated, what would it be? Do you have a favorite character you've voiced?
Therese
: This is a tough one Mickey....I would have to say "Faith" by Jennifer Haigh, portraying Shelia, a sister of a priest accused of a crime. Between the writing and the characterization this was an extraordinary experience for me. I hated when it ended. That was a gift.
Mickey
: Are you a reader at all in your spare time? Do you have a favorite genre of book you like to read outside of narrating them?
Therese
: This question makes me laugh because I was telling a fellow narrator the other day how I have started a number of books over the past seven years and cannot finish them because I am always prepping other books to be recorded. On the rare occasion I have a few days of spare time to read I love short stories in a book called "First" which are the first short stories written by famous Fiction writers which was a gift from my younger brother Herbie who is an avid reader and writer.
Mickey
: Is there a book out there that you didn't get to narrate but wish you did?
Therese
: "The Tenth Circle" By Jodi Picoult. It was my first Picoult purchase when I flew to San Francisco from New York about 5 years ago and I could not put it down. I loved how Jodi portrayed young adults in her books, so spot on. I wanted to act it out as I saw the scenes play out in my head. Haunting. Some years later, when I was asked to record Zoe for "Sing You Home" it was such a dream come true!
Mickey
: If you could pick any of the authors you've narrated books for, who would you choose to write your biography?
Therese
: Jodi Picoult or Jennifer Haigh
Mickey
: Do you have any pre-recording rituals?
Therese
: I probably drive my roommate nuts but every morning before I record I do a Netti Pot to clear out my sinuses and then do about ten minutes of vocal warm ups and diaphragm exercises to prep the instrument. I also steer clear of any dairy when I record and drink tea and decaf soy lattes through out the day. When i get into the booth I get really comfortable and after some good joke telling with my engineer I launch into the book.
Mickey
: Thanks so much for being here for Audio Book Week! Any parting thoughts?
Therese
: Mickey it was such a pleasure to answer your questions. Thank you so much for asking such thought provoking questions. Thank you also for being a fan of audiobooks in general. It is amazing for me to reach out to an actual listener and fan. Most of my time is spent in a dar sound booth recording and acting out lots of fun characters and to be able to touch base with a happy listner makes my day!! Keep enjoying and feel free to check out www.thereseplummer for updates on the new books coming out:-) Onward and
upward my friend and have yourself a great summer.
Therese Plummer is an actor and award winning voice over artist living and working in New York City. Favorite roles to date include TV: Rose Nerrick, The Good Wife, Andy in Law and Order SVU. Stage: Celebrity Row; New York Theatre Workshop, Under Tillage, The Irish Repertory Theatre. Off-off Broadway credits include The Vagina Monologues, Suzanne in Twilight of the Gold's and Madeline in the Award Winning Samuel French Short play The Sweet Room. Comedy Credits include Improv at Upright Citizens Brigade and Stand-up at Caroline's Comedy Club. Therese also performed her one woman show, Ribbons Undone, at the Here Arts Center. Therese is an award winning narrator of audio books and records for Audible.com, Recorded Books, John Marshall Media and Duart. As an adolescent counselor, Therese spent five years utilizing Drama therapy techniques in individual and group settings before moving to New York. She shares a passion of creating, helping and entertaining and feels incredibly lucky to do all three.
Find Therese: