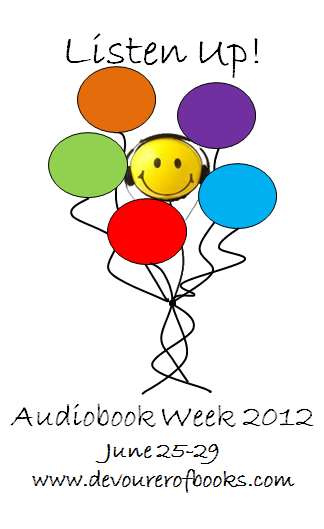 Welcome to day one of audio book week!! Every day I will have a narrator interview for you to get more information on some of my favorite audio book narrators!! They're all lovely, and I hope you enjoy :o)
Today's discussion topic: 2011-2012, Your Audiobook Year.
So I've been listening to audio books probably since about 2008-2009. I am able to listen to audio books where I work (on CD, not iPod or MP3 player), so I listen to them almost every day. My ride to work is almost an hour so I also listen in the car. I've recommended audio books to my friends at work, and currently, I share audios with at least 5 co-workers. Some of my favorites have included Sing You Home by Jodi Picoult, Beauty Queens by Libba Bray, and any and all audios by Janet Evanovich and Charlaine Harris!
Here is my first narrator interview as part of Audio Book Week!! Today's audio book narrator is CJ Critt! You may know her as the voice of so many Janet Evanovich titles. I love her different voices and the way she narrates. If you haven't checked out one of her audios, definitely do it! Here's the interview we did:
Mickey
: Hello, CJ Critt! Welcome to Audio Book Week on the blog! Please introduce yourself.
CJ
: I've been doing audio book recordings and performances for close to two decades, following years of living in NYC doing commercials, theater, cabaret and a few tours. I now have a home in Dallas, TX, am a staff writer at Radio Disney, and I do as many audio book projects a year as I can wrangle up!
Mickey
: You have a great working relationship with Janet Evanovich. What's it like bringing her famously fun characters to life?
CJ
: Some of the characters in her work have been incredibly fun to voice and do scenes with, and having received scores of fan letters about favorite characters (I'm keen on Gramma and Lula) I know many listeners have enjoyed them, too.
Mickey
: If it's possible to pick a favorite book you've narrated, what would it be? Do you have a favorite character you've voiced?
CJ
: For haunting moodiness I would pick Leaving Cheyene by Larry Mc Murtry and for wacky fun the Stephanie Plum series, at least the ones I got to do.
Mickey
: Are you a reader at all in your spare time? Do you have a favorite genre of book you like to read outside of narrating them?
CJ
: Good question. I am all over the map. I like short stories and short fiction, screenplays and stage plays from time to time, cast off best sellers from my gal-pals and whatever my English professor pal says I should read next.
Mickey
: Is there a book out there that you didn't get to narrate but wish you did?
CJ
: Yep. Confederacy of Dunces, To Kill a Mockingbird (Sissy Spacek is of course wonderful in this) and anything written by Dorothy Parker.
Mickey
: If you could pick any of the authors you've narrated books for, who would you choose to write your biography?
CJ
: Joan Hess (author of the Arly Hanks mystery series set in the wilds of Arkansas)
Mickey
: Do you have any pre-recording rituals?
CJ
: Lots of water, lots of hot tea (love coffee but it's good to avoid before the studio) and something substantial in the protein department - it's rotten to ruin lots of takes with a loud rumbly tummy. If I am driving to the session I like to do old school voice warm ups in the car, and if I am in NYC on a subway, I like to re-read the book on the commute.
Mickey
: I'm not familiar with the behind-the-scenes of audio book recording. How long does it take to finish an average book? What kind of prep work do you do?
CJ
: Think, three to one. If a book is 10 hours long to listen to, it probably takes approximately 30 hours of recording time in the studio. Before coming to the studio I read the book twice. Once for a sense of the whole shebang, where I take notes on unusual words, names, foreign phrases, etc. and put these into a list, and then I read the book again in chunks, a second time, refreshing myself with the 40 to 50 pages we will record next. With new authors, or authors with a zillion characters, I sometimes make a list of the main characters and give them a short description to help keep who's who straightened out. I don't do this with every book, though, as it is not always necessary.
Mickey
: What projects do you have coming up?
CJ
: As a reader, I am working on Buzzard Table for Margaret Maron, just finished some unusual fairy tales for Common Mode (which I recorded myself on my home studio equipment, whoo hoo) and I am hard at work as the writer on a new theater piece, ELSIE JANIS and THE BOYS, a musical tribute to the only entertainer to tour France and bring a bit of home to the troops there. She was like the female Bob Hope of WWI, and I would like to be her when I grow up...
Mickey
: Thanks so much for being on the blog for Audio Book Week! Any parting thoughts?
CJ
: I do love to do my live audio book programs and workshops each year, and I would like your readers to keep that in mind the next time they are looking for an interesting program for writers, speakers, and storytellers, or just want to listen to some really fun audio - out loud - that they should email me at
cjcritt.com
. Meanwhile, happy listening!
CJ Critt is a popular narrator, known as the 'Voice of Stephanie Plum', bringing to life the books of best selling author, Janet Evanovich and suspense writer, Patricia Cornwell, as well as many other novelists. On stage, CJ has performed on and off Broadway, from Melvin Van Peebles', Waltz of the Stork, to her own one-woman show on Theatre Row, titled, Cursed With Bigness. Other solo shows include, Manhattan Diary, Smoking Lips, Suicide at 8, and most recently, By Rail. A survivor of standup comedy, experimental theater, and poetry slams, CJ won a Cable Ace Award for writing and producing, WORDS ALOUD! with her spoken word ensemble, The Angry Girl Sextet. Their collection of theatrical poetry was staged at the Tristan Bates Theater in London's West End. She frequently leads the creative workshop, the Write Stuff, and is a staff writer at Radio Disney. She is also the author of the young adult novel, EggStory and the picture book, The Easter Elves. Other musicals include--book and lyrics for the original musical, Algonquin, with composer Michael Hirsch, book, music and lyrics for the musical fable. DOG LIFE, and she is currently working on the musical noir, Black Dahlia with collaborators, John Prestianni and Richard Sabellico.