I have something really fantastic to share with all you fabulous readers today! Scott Nicholson is on the blog talking books and life with me! He's a really honest author who has written all sorts of material, so please check out all of his books and my fun interview with him. Enter a giveaway below for his novel
Creative Spirit
, the bonus edition with the screenplay!
Scott Nicholson
-
Creative Spirit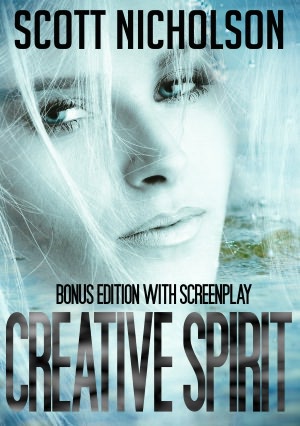 • Pub Date: November 19, 2011
• Publisher: Haunted Computer Books
• Format: ebook
• Age Range: Adult

After parapsychologist Anna Galloway is diagnosed with metastatic cancer, she has a recurring dream in which she sees her own ghost. The setting of her dream is the historic Korban Manor, which is now an artist's retreat in the remote Appalachian Mountains. Drawn both by the ghost stories surrounding the manor and her own sense of destiny, Anna signs up for the retreat.

Sculptor Mason Jackson has come to Korban Manor to make a final, all-or-nothing attempt at success before giving up his dreams. When he becomes obsessed with carving Ephram Korban's form out of wood, he questions his motivation but is swept up in a creative frenzy unlike any he has ever known.

The manor itself has secrets, with fires that blaze constantly in the hearths, portraits of Korban in every room, and deceptive mirrors on the walls. With an October blue moon looming, both the living and the dead learn the true power of their dreams.

Originally published in paperback as THE MANOR. Includes the complete movie script and an article on the real haunted manor that inspired the story.
"Scott Nicholson explores the dark legends of the southern end of the Appalachian mountain chain, a nightmare country that ends in Stephen King's yard."-- Sharyn McCrumb, author of The Ballad novels
Mickey
: Hi there, Scott Nicholson! Welcome to the blog! Please introduce yourself.
Scott
: I'm just your average reclusive weirdo who'd rather be in the garden than Wall Street. I've always had an urge to create. I started as an artist and became a musician, but writing was the thing I loved most.
Mickey
: Tell us a little about your writing style and what influences you.
Scott
: I am still figuring out my style because every time I read a good book, or even a good sentence, I wish I had written it. So I am always looking to learn. Writing feels like a lifelong journey, or else endless homework for the rest of your life!
Mickey
: I see you've written a whole lot of stuff! Novels, short stories, screenplays, and comics are in your repertoire. You also write across many genres. Do you have a favorite method/genre/niche that you write?
Scott
: I tend to like novels better because they are journeys. They take a long time to write and you get more intimate with the characters. I also tend toward thrillers of various sorts, although sometimes it's fun to just be plain silly.
Mickey
: You've had quite a few "odd jobs" as you call them. Any interesting or funny stories with those?
Scott
: I loved working in radio, because the other deejays would look through the sound booth window and try to make you laugh when you were on the air. I also had to read the obituaries, which called for a serious tone but also that professional, mildly upbeat radio voice. The worst time was when I had to read the obit of a guy named Boonie Klutz, and had to keep repeating "the Klutz family" over and over. I had to pretend I was suffering a coughing fit to hide my snickers without being disrespectful.
Mickey
: Do you have a favorite novel that you've written?
Scott
: My favorite is As I Die Lying, which has about every trick in the book, but The Red Church is my best known and most widely read. It's been around nearly 10 years and still keeps finding new readers. That's really cool.
Mickey
: If you could rewrite any of your works, which would it be and why?
Scott
: I have revised many of my earlier novels as I got the rights back. I revised As I Die Lying for a dozen years. And with ebooks, you can change anything at any time.
Mickey
: Which novel/idea do you wish you'd written or come up with first?
Scott
: Wow. I see one about every day! But I never wanted to be Stephen King or J.K. Rowling. Even if I could trade places with them, I wouldn't do it. Because I have to do Scott Nicholson, because nobody else can do that.
Mickey
: I'm a huge audio book fan. Any plans for audio books? If you could pick any person to narrate them, who would it be?
Scott
: The Red Church is out for digital download from Audible, and Amazon is releasing Liquid Fear and Chronic Fear early in 2012. I enjoy audiobooks in my car, but it's getting harder to find them on cassette tape. Yes, I am always behind the times!
Mickey
: Thanks so much for being here, Scott! Glad to have you. Any final words?
Scott
: This is a great time to be a reader and writer. I am so grateful I am here while it's happening.
Scott Nicholson is author of
Creative Spirit
and more than 20 other books, as well as children's books and screenplays and story collections. His thrillers
Liquid Fear
and
Chronic Fear
will be released by Amazon on Dec. 20. Connect with Scott on
Facebook
,
Goodreads
,
LibraryThing
,
Twitter
,
blog
,
website
or
Amazon
.