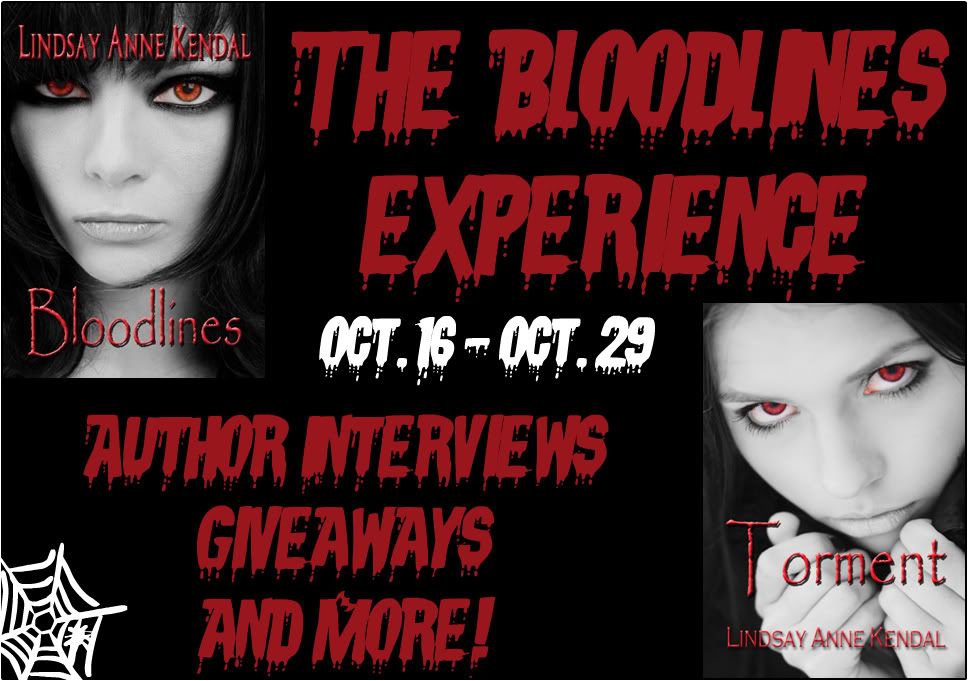 Hey everyone! Please welcome
Lindsay Anne Kendal
to the blog today! She has written a great guest post for the tour stop, so check it out! This is an
Experience Tour
, so check them out too if you can.
Lindsay Anne Kendal
-
Bloodlines
/
Torment




Keira Jameson used to lead a normal life, she just had a gift, passed down through the generations of her family. Now, after hearing voices, having strange dreams of others calling out to her, and her grandfather's last words haunting her, she sets out to find other families like hers. Along with her best friend Lily, the only person outside her family to know about her gift, Keira begins a hunt for her ancestors. A chance meeting with a young man, Lucian Turner, sets them on the right track, but their discoveries change the way Keira will see herself for ever more. Fear, superstition and heritage are shaping Keira's future and she must face her enemies, even if this could mean losing her life. She cannot escape her destiny.

Part Buffy-style horror, part tender romance, Bloodlines will have fans of the genre on tenterhooks waiting for the next installment of this gripping and hell-raising tale.

Thank you so much for having me. My name is Lindsay Anne Kendal, although my friends call me Linz. I'm the author of the Bloodlines Trilogy. Bloodlines is now available, and the second in the series, Torment, will be available from November 1st.

I always get stuck when asked to do a blog post, I never really know what to talk about and I don't want to bore people. So I thought I would think about some of the questions people ask me regularly and answer one of them.
A lot of my friends say to me "Linz, where did that story come from? What must go on in that head of yours?"
This kinda makes me laugh to myself, and some people do think I'm weird. Well the truth is... I am, and I'm proud of it. I'd hate to think people thought I was a 'normal' person lol. I love everything gothic, weird and wonderful, scary, supernatural and fantastical. It all fascinates me and has done since I was young girl. My friend and I used to go to the local video rental store every weekend and rent as many horror films as we could, then sit there in the dark watching them. We did it for so long, and saw so many films that sadly these days, nothing scares me or her. I now spend most of my time laughing at horrors.
I have some very strange beliefs too. I have so many of them that I couldn't possibly start to tell people on here. Some baffle my friends and they look at me like I'm crazy, but hey, I believe what I believe.
I listen to very heavy metal music, I love Cradle of Filth. I'm not keen on the screaming, but the music is just amazing and a massive inspiration to me. It's so hellish and haunting. When I listen to their songs I get lost in a world of fantasy. My stories play like movies in my mind, and then I go and write everything down. The song 'Her Ghost in the Fog' gave me the inspiration for the fight scene at the end of Bloodlines. It's an amazing piece of music.
I think what freaks people out the most is the fact that I love nightmares. They're brilliant. Your probably thinking, this girl is messed up, but... my nightmares can act as inspiration. If they frighten me, then great, since there isn't much that does. It also, to my mind, means it could frighten others. It's my goal to one day write a novel that will scare the hell out of even the toughest people, so keep the nightmares coming.
This is the only insight I can give people into how my mind works and why. It's a mix-up of strange, horror, weirdness all rolled into one. But I think when you write in my genre, you need to be a little bit mixed-up and weird.
About the Author:

I was born on the 27th September 1983 in Manchester. I grew up in Droylsden, Manchester and I still live there now. I live with my Mum, Dad, Sister and two Jack Russells.

My dream is to become a full time writer, it is something I feel very passionate about. I want to improve my writing, and have people enjoy my work. I want people to be able to curl up on the sofa, or where ever they are comfortable, leave everyday life and hardships behind, and escape into a world of fantasy.

I have had a love of fantasy/horror and all things weird/wonderful and gothic since before I can remember, and began writing in the genre in my early twenties.