Welcome to the interview portion of Book Blogger Appreciation Week!! I was late signing up, but I still got super lucky in my match up! Rie Conley from
Mission to Read
needed a partner, so we got hooked up for the interview! She's very awesome, and we had a great time doing a Google Talk chat as the interview. We learned that we have a lot in comment and we love some of the same blogs and books! Read Rie's mini bio, then take a look at our fun interview conversation and let us know what you think!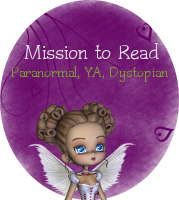 I'm in my early 20's, a wife, and a dog-lover who reads when I should be folding laundry, I write (rarely as academic papers consume my life), and I love getting wrapped up in fiction.

Rie
: Which 3 bloggers would you say influenced you the most in your book blogging experience?
Mickey
: Anna from Anna reads was the first blog I came across, so her blog has a lot of influence on mine. After her blog was The Broke and the Bookish, and then Ashley from The Bookish Brunette.
Rie
: I so agree with Ashley! She's such a new blogger and yet has influenced so many people. Love her!
Mickey
: Me too! Her blog is so spunky and fun!
Rie
: She is not afraid to speak her mind. That's for sure!
Mickey
: It's an admirable quality :)
Rie
: It is. She's just so real.
Mickey
: Are there other blogs that have influenced you?
Rie
: I would say Satisfaction for Insatiable Readers as hers is the first I saw, and Parajunkee. Her BB101 posts are so helpful and helped become interested in graphic design. When I was featured on Follow Friday it helped me to grow my readership.
Mickey
: Oh absolutely. I am forever grateful for Parajunkee and her #FF!! Great choices.
Rie
: Parajunkee is always so friendly and has the greatest features and is willing to help bloggers out at any time. She is truly dedicated.
Mickey
: I completely agree. Her advice has helped me immensely.
Rie
: How do you keep involved in the blogging community from day to day? Any tips on keeping the google reader tamed?
Mickey
: I keep involve by participating in the memes and features, posting on Twitter, and keeping my Facebook blog page up-to-date. And I'm not the one to ask about the Google reader. I'm so bad about checking up on blogs I follow!! I have no time with work and reading for my own blog. I do try to check the links in my comments though.
Rie
: Twitter is my favorite way to keep in touch with the people in the book blogging community. Who are some are your favorites to follow? I too am simply dreadful at keeping up with google reader. 1,000 posts per day on average is simply too many!
Mickey
: Even Twitter has been hard for me to keep up with lately! But I do love to follow authors like Libba Bray, Maureen Johnson, and Tahereh Mafi. It's so fun to see their personalities outside of their novels!
Rie
: Oh, I so agree. Getting to know the authors behind the books has been one of the best things about twitter. Do you also view youtube to get to know authors better? I simply adore Jackson Pearce's youtube videos.
Mickey
: Oh wow! I was not aware. I will SO have to check that out!! Do you get to do author interviews for your blog? That is one of the coolest things about blogging! Also, I just read Sisters Red by Jackson Pearce and will most likely check out Sweetly! :)
Rie
: Omg yes! I so love interviewing authors. I haven't in awhile, but most authors are so willing to help in any way they can. Some few authors as intimidating, but I do not have this problem at all. They are WAY less intimidating than publishers. At least to me.
Mickey
: I am pretty shy and get very discouraged by 'no' or no reply at all, but I've found that most authors are very willing like you said. It's still astonishing to me the contact they have with their readers! Before blogging, I didn't know that this awesome world existed.
Rie
: I haven't really ran into a no. A few haven't replied, but I simply move on. There are so many authors/books and so little time! Once you put forth the effort to get into this community it is one of the most welcoming.
Mickey
: I so agree! Speaking of so many books, how do you handle your TBR pile? It seems like it never ends, which is fantastic but stressful.
Rie
: But on the flipside, if you anger the book bloggers whether you be a columnist (like the WSJ), author, or blogger we band together in our fury. We can make real change when we set ourselves to it.
Mickey
: So so true! That was an amazing reaction we had :)
Rie
: Right now, I'm not managing my TBR at all (bad blogger, bad), because I'm moving. I usually keep my books on my bookcase in order of when they must be read for review and then often steal books from the middle when I can simply resist no longer. Right now that would be Sweetly. I need to read a few others, but I got hooked by that beautiful cover.
Mickey
: I'm kind of bad that way too. I have three different lists and a calendar to keep me in line, but it doesn't always work! Sometimes I cannot resist, or I want to read books that came out a while back. It's not easy!
Rie
: I've found that if I stress too much I will simply stop reading. So if there isn't a date set in stone (like for book tours), I'll just read and not feel guilty.
Mickey
: That's good advice. I stress too easily, and it also turns me off of reading completely. Ahh the pros and cons of book blogging :)
Rie:
There are certain drawbacks, but overall blogging has been such a great experience.
I so, so agree with Rie on that one! Blogging has been such a fantastic addition to our lives! We've met great people, read some fantastic books, and found some awesome opportunities in the book world. While it's stressful at times, it seems like neither of us would trade it for the world! Also, keep a look out for Rie's writing project she started this summer. Whatever it is, I'm sure it will be great!
Thanks to BBAW and Rie for being so amazing. I had a blast doing the interview!! Feel free to check it out on
Rie's blog
too!