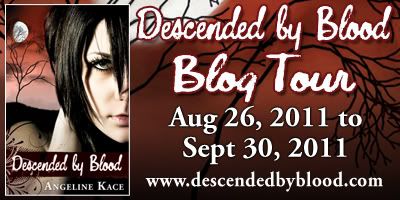 Welcome to my blog tour stop for Angeline Kace's Descended by Blood! The lovely author is stopping by on the blog today along with Brooke Keller, the heroine of the novel! They've provided us with a little insight of Brooke's mind with a This or That survey! I reviewed the book the other day, and you can find that
here
. There is also a giveaway posted down below, so check that out as well. And don't forget to check out my review of the novel on Goodreads.
Without further ado, please welcome Brooke!


Johnny Depp or Brad Pitt?
Definitely Brad Pitt. Jaren kinda looks like a younger Brad Pitt, and I'm kind of a fan of Jaren. ;)
Blink 182 or Fall Out Boy?
I'm a fan of both bands, but if I had to choose, I'd have to go with Blink.
Chocolate or Vanilla?
Chocolate. Vanilla is kinda bland in comparison.
Computer or Television?
Computer. You can watch TV on the computer now, so I'd take the one I could have it all with.
Myspace or Facebook?
Hahaha. Facebook. I've never even had a Myspace page. I don't think any of my friends are on Myspace either.
Sandals or Sneakers?
Sneakers. Sad, but my life has evolved to one where I might need to run at any given moment. I just don't feel comfortable with putting my life on the line over sandals.
Pool or beach?
Beach!
The Simpsons of Family Guy?
Uh-oh. I like both of them. I'd probably have to go with Simpsons, though.
Vampires or Werewolves?
I might be extremely biased when it comes to this question, but hands down, Vampires. And I'll give you one word that should explain my answer: Mirko.
Mashed potatoes or French fries?
I love me some greasy French fries, but my mom can whip up a mean dish of mashies, so I'd say mashed potatoes.
Blind or Deaf?
Oh, wow. How do I choose between these two? I would never wish for either of them, but I would probably have to say deaf. I think I'm more dependent on my sight than I am on my hearing.
Potato chips or Popcorn?
I LOVE kettle corn!
Cake or Ice cream?
Ice cream. I can't eat cake unless it has ice cream in it.
Call or Text?
Hmmm. I love to text. Especially at the beginning stages when you're starting to talk to a guy. It takes some of the pressure off me. And I get to think about my response longer than if we were talking on the phone.
Black or White?
Black. It's slimming, sleek, and hot.
Scuba diving or Bungee jumping?
I might pee my pants during a bungee jump, but I think I'd still like to try it. There's nothing that really scares me about scuba diving (I would go to a shark-free zone), but it's definitely something on my bucket list.
N Sync or Backstreet Boys?
Hahaha! N Sync! I'm a sucker for Bye, Bye, Bye. I still dance whenever I hear it.
All or Nothing?
I feel the good outweighs the bad, so I'll take it all please.
Thank you so much for hosting me, Mickey! Your blog is super cute, and I knew the moment I stopped by that I would love to tour here, so thank you!

Thanks to Angeline and Brooke for stopping by today! So glad to have you!


Angeline Kace is a Scorpio living in the Rocky Mountains with her husband and two dogs. She loathed dogs and their "stick to me everywhere" hair until she fell for a pit bull.

She works full time at CPA firm and is going to school to get her Accounting degree. While she's slaving away, trying to figure out why accounts aren't balancing, she's dreaming about books.

She started reading seriously- staying up all night to finish a book and buying every new release she could afford- after finishing Twilight. Say what you want about the series, but it got a lot of people reading, so it's brought more to this world than just sparkly vampires. She loves all things paranormal, but her favorites are vampires, werewolves, and zombies. In that order.

Catch Angeline on the web: blog | Twitter | Facebook

Buy Descended by Blood: Amazon ebook | B&N ebook | Amazon Paperback | B&N Paperback | Book Depository Paperback

Giveaway!!

1 signed paperback copy of Descended by Blood
1 signed bookmark
1 nail polish
Rules
:
Prizes provided by Angeline Kace.
US only.
Ends 9/8/11.
Use Rafflecopter below. Comments are appreciated but not entries into the giveaway.

Winner will have 48 hours to contact me with address for prizes.
Questions? Comment here with a way to contact you and I'll get back to you!