I am very pleased to present my first author interview! I just finished Richard Brown's book over the weekend, and you can check out my review
here
. The interview was fun. I tried to ask some interesting questions, and Richard came up with some very interesting answers! Then, at the end of the interview, you can enter for a chance to win a signed print copy of his book,
The Gift of Illusion
!!
Mickey@imabookshark: For those who don't know you, tell us a little bit about yourself.
Richard Brown, author: First, thanks for having me. I'm thirty-one years old. 5'11. Around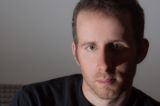 165 pounds, and gaining. I have blue eyes and brown hair. I try to keep my hair short because when it gets long it gets really curly and just looks ridiculous, though apparently some women like curly hair on men. I don't get it. In my spare time I enjoy showering and doing the laundry. Oh, and people always tell me I have a bizarre sense of humor, and I don't know why.
M: What gave you the inspiration to write The Gift of Illusion?
R: When I first started writing, I wrote poetry almost exclusively. I really wanted to be a songwriter but I didn't have much musical talent. Every now and then I would write a short story, one in particular called The Eyes of an Angel was pretty good. Or I thought it was back
then. It was a long short story at around fifteen thousand words, and it gave me the courage to try something bigger. The Gift of Illusion was the result.
M: Isaac is a really stressed but mostly confident character. Why do so many bad things happen to him?
R: I think it's partly the nature of his profession. As a detective he's forced to experience certain things, bad things, that most of us never will. I think he also has a false sense of confidence. In other words, the way he wants people to view him isn't necessarily the way he really is. On the outside he projects a strong and confident aura, while on the inside he really feels weak and burdened with guilt.
M: Any chance of a sequel? Maybe some good luck for Isaac with Virginia?
R: The idea for a sequel has certainly crossed my mind. I could see him leaving the police force and becoming more of a private investigator, perhaps with Virginia by his side, like a darker X-Files. I could also write a story from the villain's point of view during the time when he lived. I enjoyed writing the snippets in The Gift of Illusion about his past. Ultimately, I think the success of the book will determine whether or not I will write a sequel. So the jury is still out.
M: Which one of the characters best represents you? Which qualities do your characters have that you wish you possessed?
R: Isaac would probably best represent me. He has a quick wit, and likes to poke at people. He also doesn't really care what people think about him, as long as he can keep his emotions buried out of sight.
M: Tell us what you have coming up next: another novel and a poetry book I hear..?
R: The poetry book is called The Rebirth. I hope to have it out in the next month. As I mentioned earlier, I wrote only poetry growing up, so most of the poems in The Rebirth are
decades old. But I think they help tell a story of who I was at the time and how I learned to use language. I'm also working on a new novel about a woman who gets a second chance to have a child she lost in labor. It's a much bigger idea with far more characters and multiple plotlines intertwining. I have lots of faith in this story so I'm taking my time with it.
M: Can't wait for it! Sounds good! Now, describe your approach to writing or your writing style in 5 words.
R: Love it or hate it.
M: On Smashwords, it says you like to sing Karaoke. What's your favorite song to sing?
R: It was Somebody told me by The Killers. But I sort of retired that song cause I think other people were tired of hearing it. The last few sessions I sang some Pearl Jam, Bon Jovi, Radiohead, and a bunch of 80's rock ballads.
M: Good songs!! So, your facebook page is interesting. I found a post about how awesome Subway cookies are. Which one is your favorite?
R: Chocolate Chip, obviously.
M: MMM those are my favorite!! Since June is Audio Book Month and I am a huge fan of audio books: any idea if your book will be coming out on audio? And do you listen to audio books? Anything you can recommend?
R: I don't have any plans for audio, but I think it would be a nice format to have. I would like to reach as many people as possible. I really like listening to anything Frank Muller did, particularly
his reading of Stephen King's Dark Tower series. It's unfortunate that he passed away not too long ago.
M: Who would you want to write your biography? And who would you want to read the audio version?
R: I would want it to be written by a ghostwriter so I wouldn't know who to blame, and read by Christopher Walken.
M: I would love if Christopher Walken started doing audio books!! Alright, any parting words? Advice? Favorite things you want to share? Now's the time!
R: Parting words? Don't say goodbye, say good journey. Masters of the Universe is a classic film that everyone should watch, and Return to Oz. Oh, and thanks for the interview, Mickey. I had fun. Perhaps too much.
Author Links
Blog
Facebook
Goodreads

I had fun, too! Thanks SO much to Richard Brown for taking the time to do this interview. We've had some email communication and he seems like a very cool guy. Check out his book soon! Let's get to the fun part shall we?
Giveaway time!!
Giveaway Details:

Fill out this form to enter. Only one entry form per person.
Comments are much appreciated but are not entries into the contest.

Participate in extra entries if you'd like. They are subject to review, so don't lie! ;o)

Following my blog is not required but it's very much appreciated!
Must be 16 or older.

Last day to enter is 6/30/11. Winner will be announced 7/1/11.

I will pick a winner using Random.org.

I am not responsible for items lost in the mail.
Extra Entries:
+1 - Follow my blog through GFC or email
+1 - Follow me on Twitter
+1 - Tweet/Facebook this contest to spread the word: Interview and GIVEAWAY - Richard Brown's The Gift of Illusion http://tinyurl.com/rbrowngiveaway @imabookshark
+1 - Like Richard Brown's Facebook page
+1 - Follow Richard Brown on Goodreads.
Thanks to Richard Brown for the awesome giveaway!
Good luck!!