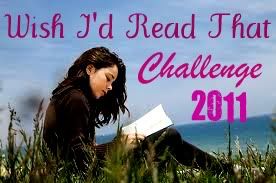 Hosted by My Love Affair With Books, the Wish I'd Read That challenge helps you to get those books off your TBR list. Click the picture above to go to the host website to sign up and get the rules. I hope this challenge helps me get some books off my list, because I have a ton!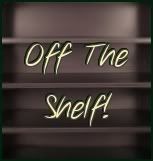 This is another challenge to get those TBR books off the list hosted by Bookish Ardour. If I'm doing one, I might as well do them all :o) I'm going to aim for the
Making A Dint
level (30 books). Here's my list. Click the link for my review.
Jeaniene Frost - First Drop of Crimson | review
Lewis Black - Me of Little Faith | review

Charlotte Bronte - Jane Eyre | review
Jacquelyn Mitchard - The Deep End of the Ocean | review
Karen Marie Moning - Shadowfever | review
Stephanie Bond - Our Husband | review
Audrey Niffenegger - The Time Traveler's Wife | review
Cecelia Ahern - Love, Rosie | review
David Nicholls - One Day | review

Alex Archer - The Spirit Banner | review
Alex Archer - Sacred Ground | review
Nicholas Sparks - Three Weeks With My Brother | review
Marisa de los Santos - Love Walked In | review
Jeff Dunham - All By My Selves | review
Nicole Peeler - Tempest Rising | review
Jodi Picoult - Nineteen Minutes | review
Jodi Picoult - Picture Perfect | review
Ellen Hopkins - Fallout | review
Hilary Duff - Elixir | review
Meg Cabot - Abandon | review
K. J. Larson - Liar Liar | review
Margaret Atwood - The Handmaid's Tale | review

Jodi Picoult - House Rules
J. K. Rowling - Harry Potter and the Sorcerer's Stone | review

Mindi Scott - Freefall | review

Justine Larbalestier - Liar
J. R. Ward - Dark Lover
Janet Evanovich - Smokin' Seventeen | review

Richelle Mead - Succubus Revealed | review

Amy Huntley - The Everafter | review

Kate Brian - Cruel Love | review

Kate Brian - Vengeance
Jennifer Donnelly - Revolution | review

Lauren Oliver - Delirium | review

Veronica Roth - Divergent | review

Mark Logue - The King's Speech
Kathryn Stockett - The Help | review

Cassandra Clare - City of Bones | review

Any suggestions? Let me know :o)