Hosted by
Breaking The Spine
, this section will feature future upcoming releases that I personally am excited about. These will generally be coming up later in the year. Let me know what you're looking forward to, or even what you're writing, and maybe I'll feature it here as well.
Kieran Scott
-
He's So Not Worth It
• Pub. Date: June 7, 2011
• Publisher: Simon & Schuster Children's Publishing
• Format: Hardcover 368pp
• Age Range: Young Adult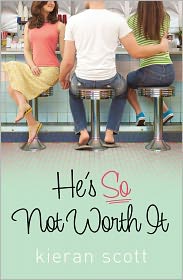 BN.com description:
Ally Ryan, come on down to the Jersey Shore and forget your troubles!
Have you recently been humilated in front of your friends and family at your former best friends birthday party? Was your almost boyfriend partly responsible for that humilation by withholding some vital information about where your estrangerd father is? Did you come home to find said estranged father sitting on your stoop?
If so, then it sounds like you could use a vacation! The Jersey Shore is the place to be. Your mother may be living with her boyfriend of only a few months, but at least the stunt Shannen pulled has put some of your friends back in your court. Even so, you're still angry and what better way to get over Jake than to blow off some steam with local guy, Cooper. People will hardly recognize your new attitude, but the old one wasn't getting you anywhere, so who cares!
Jake Graydon, an exciting opportunity is waiting for you in the service industry!
Are your grades so low your parents have grounded you for the summer? Did you the girl you really like unceremoniously leave you behind? Would you rather eat dirt than see your friends again? Then a job at the local coffee shop is just the ticket! Suprisingly, Ally's father is the new manager so you get to be reminded of her nearly every day. Maybe it's time to start flirting with your best friend's ex or even taking school a bit more seriously. Especially when you finally see Ally and she's hanging around with some loser and it's couldn't be more clear that she is over you.
Have a great summer!
Five reasons why I cannot wait for this to come out:
01. I adored the
first one
! While I wasn't hooked from the beginning, it got to the point where I couldn't put it down.
02. I'm looking forward to see if it's still in both Ally's and Jake's perspectives. I liked that part a lot.
03. These books are much different than her
Private
/
Privilege
series written under pseudonym Kate Brian (see below).
04. Maybe it will get me ready to read more by her.
05. I love the YA genre. They're usually quick, satisfying reads.
Can't wait! This one will hopefully be as funny, entertaining, and emotionally engaging as the first one. :o)
Kate Brian
-
Cruel Love
• Pub. Date: June 7, 2011
• Publisher: Simon & Schuster Children's Publishing
• Format: Paperback 224pp
• Age Range: Young Adult
After escaping from the Brenda T. Trumball Correctional Facility for Women and stealing the identity of rich socialite, Ariana Osgood finally thought she was on the path she always believed she deserved. But her past caught up with her and she is forced right back to her old ways, making everything she wants seem further out of reach. And some familiar faces are back to make things even worse for her.
The Privilege series comes to and end with all the suspense, romance, drama and, wherever Ariana is concerned, murder you'd expect.
Five reasons why I cannot wait for this to come out:
01. I have read all the previous ones in this series and the Private series.
02. This is the LAST ONE in this series!!!!!!!!
03. Ariana is a crazy, and I love the trouble she gets into.
04. It will be interesting to see the two worlds collide again.
05. Did I mention this was the last one in this series?!?!
No, I didn't run out of reasons why I can't wait for this one. This series coming to a close is a huge reason why now would be a good time to start reading it! Hopefully everything ends well for Ariana, but she honestly has some hell to pay for the things she's done. I am very curious to see how Brian chooses to end this series. June 7th will be a big day for her and for her readers like me!!
ALSO! One last thing. She had a contest running on her
blog
for signed bookmarks. My friend entered for us (since you had to refer a friend to her book's Facebook fan page) and we WON! Here are some pictures of the awesome bookmark: