Welcome to another exciting week in the world of books! Lots of good stuff comes out this week. There are a couple new ones that I might try to get to, but I honestly have to much on my TBR list and so many books sitting on my couch right now that I really need to kick it in gear! My book club meets this Sunday so I seriously need to finish
True Grit
. Then there are a couple others I want to dive into soon! So anyway, here are Tuesday's new releases. Enjoy, and let me know if you read any of them!
Sarah Dessen
-
What Happened to Goodbye
• Pub. Date: May 10, 2011
• Publisher: Penguin Young Readers Group
• Format: Hardcover 416pp
• Age Range: Young Adult
Since her parents' bitter divorce, Mclean and her dad, a restaurant consultant, have been on the move - four towns in two years. Estranged from her mother and her mother's new family, Mclean has followed her dad in leaving the unhappy past behind. And each new place gives her a chance to try out a new persona: from cheerleader to drama diva. But now, for the first time, Mclean discovers a desire to stay in one place and just be herself - whoever that is. Perhaps her neighbor Dave, an academic superstar trying to be just a regular guy, can help her find out. Combining Sarah Dessen's trademark graceful writing, great characters, and compelling storytelling,
What Happened to Goodbye
is irresistible reading.
Adele Griffin
-
Tighter
• Pub. Date: May 10, 2011
• Publisher: Random House Children's Books
• Format: Hardcover 224pp
• Age Range: 12 and up
When 17-year-old Jamie arrives on the idyllic New England island of Little Bly to work as a summer au pair, she is stunned to learn of the horror that precedes her. Seeking the truth surrounding a young couple's tragic deaths, Jamie discovers that she herself looks shockingly like the dead girl—and that she has a disturbing ability to sense the two ghosts. Why is Jamie's connection to the couple so intense? What really happened last summer at Little Bly? As the secrets of the house wrap tighter and tighter around her, Jamie must navigate the increasingly blurred divide between the worlds of the living and the dead.
Brilliantly plotted, with startling twists, here is a thrilling page-turner from the award-winning Adele Griffin.
Christina Mandelski
-
The Sweetest Thing
(You can win this on Goodreads! Enter today!)
• Pub. Date: May 10, 2011
• Publisher: EgmontUSA
• Format: Hardcover 336pp
• Age Range: 12 and up
In the world of Sheridan Wells, life is perfect when she's decorating a cake. Unfortunately, everything else is a complete mess: her mom ran off years ago, her dad is more interested in his restaurant, and the idea of a boyfriend is laughable.
But Sheridan is convinced finding her mom will solve all her problems—only her dad's about to get a cooking show in New York, which means her dream of a perfect family will be dashed.
Using just the right amount of romance, family drama, and cute boys,
The Sweetest Thing
will entice fans with its perfect mixture of girl-friendly ingredients.
Amy Plum
-
Die For Me (Revenants #1)
• Pub. Date: May 10, 2011
• Publisher: HarperCollins Publishers
• Format: Hardcover 352pp
• Age Range: Young Adult
My life had always been blissfully, wonderfully normal. But it only took one moment to change everything.
Suddenly, my sister, Georgia, and I were orphans. We put our lives into storage and moved to Paris to live with my grandparents. And I knew my shattered heart, my shattered life, would never feel normal again. Then I met Vincent.
Mysterious, sexy, and unnervingly charming, Vincent Delacroix appeared out of nowhere and swept me off my feet. Just like that, I was in danger of losing my heart all over again. But I was ready to let it happen.
Of course, nothing is ever that easy. Because Vincent is no normal human. He has a terrifying destiny, one that puts his life at risk every day. He also has enemies . . . immortal, murderous enemies who are determined to destroy him and all of his kind.
While I'm fighting to piece together the remnants of my life, can I risk putting my heart—as well as my life and my family's—in jeopardy for a chance at love?
(What a gorgeous cover, right?!)
Caissie St. Onge
-
Jane Jones: Worst. Vampire. Ever.
• Pub. Date: May 10, 2011
• Publisher: Random House Children's Books
• Format: Paperback 240pp
• Age Range: Young Adult
For Jane Jones, being a vampire is nothing like you read about in books. In fact, it kind of sucks. She's not beautiful, she's not rich, and she doesn't "sparkle." She's just an average, slightly nerdy girl from an ordinary suburban family (who happens to be vampires.) Jane's from the wrong side of the tracks (not to mention stuck in the world's longest awkward phase), so she doesn't fit in with the cool vampire kids at school or with the humans kids. To top it all off, she's battling an overprotective mom, a clique of high school mean girls (the kind who really do have fangs), and the most embarrassing allergy in the history of the undead, she's blood intolerant. So no one's more surprised than Jane when for the first time in her life, things start to heat up (as much as they can for a walking corpse, anyway) with not one, but two boys. Eli's a geeky, but cute real-live boy in her history class, and Timothy is a beautiful, brooding bloodsucker, who might just hold the key to a possible "cure" for vampirism. Facing an eternity of high school pressure, fumbling first dates, or a mere lifetime together with Timothy, what's a 90-something year-old teen vampire to do?
Jeff Kinney
-
The Wimpy Kid Do-It-Yourself Book
• Pub. Date: May 10, 2011
• Publisher: Abrams, Harry N., Inc.
• Format: Hardcover 224pp
• Age Range: 8 to 11
This revised and expanded innovative journal based on Greg Heffley's own "diary" lets kids express themselves in an exciting new way. In the
Diary of a Wimpy Kid Do-It-Yourself Book
, kids will be asked: What was the best dream you ever had? The worst thing you ever ate? The best secret you ever heard? The most trouble you ever got in for something that wasn't even your fault to begin with? The Do-It-Yourself Book features art throughout, along with ruled and blank pages for readers to create their own stories, keep their own diaries, and record their favorites and least faves.
The book includes a bonus 32-page full-color comics section featuring the collected cartoons of Greg Heffley and his best friend, Rowley. Revised and expanded! With brand-new content: 16 more pages of full-color comics, and 32 more interactive pages.
John Sandford
-
Buried Prey (Lucas Davenport #21)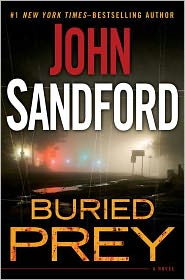 • Pub. Date: May 10, 2011
• Publisher: Penguin Group (USA)
• Format: Hardcover 400pp
A house demolition provides an unpleasant surprise for Minneapolis-the bodies of two girls, wrapped in plastic. It looks like they've been there a long time. Lucas Davenport knows exactly how long.
In 1985, Davenport was a young cop with a reputation for recklessness, and the girls' disappearance was a big deal. His bosses ultimately declared the case closed, but he never agreed with that. Now that he has a chance to investigate it all over again, one thing is becoming increasingly clear: It wasn't just the bodies that were buried. It was the truth.
Previous titles in series
: Rules of Prey, Shadow Prey, Eyes of Prey
Chelsea Handler
-
Lies That Chelsea Handler Told Me (By Chelsea's Friends, Family, and Other Victims)
• Pub. Date: May 10, 2011
• Publisher: Grand Central Publishing
• Format: Hardcover 304pp
It's no lie: Chelsea Handler loves to smoke out "dumbassness," the condition people suffer from that allows them to fall prey to her brand of complete and utter nonsense. Friends, family, co-workers—they've all been tricked by Chelsea into believing stories of total foolishness and into behaving like total fools. Luckily, they've lived to tell the tales and, for the very first time, write about them.
Chelsea Handler is an accomplished stand-up comic and actress, as well as the bestselling author of
My Horizontal Life
. She is the star of her own late-night show on E!,
Chelsea Lately
; was one of the stars of Girls Behaving Badly; has appeared on
The Tonight Show with Jay Leno
and
Late Night with David Letterman
; and has starred in her own half-hour Comedy Central special. Chelsea makes regular appearances in comedy clubs across America and lives in Los Angeles.
Ronald Reagan
-
The Notes: Ronald Reagan's Private Collection of Stories and Wisdom
• Pub. Date: May 10, 2011
• Publisher: HarperCollins Publishers
• Format: Hardcover 320pp
That Ronald Reagan was a masterful storyteller has become a commonplace, but few people realize how conscientiously he labored to work his winning ways. For decades, the genial Californian was a tireless collector of memorable stories and wisdom, collecting them in gatherings that until now have not been published. Presidential historian Douglas Brinkley brings the best of these quips and piths to Reagan's numerous admirers in this spirit-lifting collection.