This week's new releases include some books that I am totally excited about!!! Charlaine Harris's new Sookie novel is coming out, as well as James Patterson's new Women's Murder Club installment! Start those series now if you haven't already. An update on last week's new releases: I picked up
Abandon
by Meg Cabot from the library (or the bib as I call it), and I found the first book in the
Envelope
series on ebook! So without further ado, here are this week's new ones!
Charlaine Harris
-
Dead Reckoning (Sookie Stackhouse/Southern Vampire Series #11)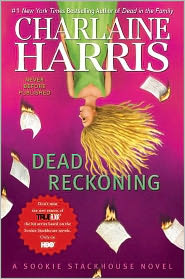 • Pub. Date: May 3, 2011
• Publisher: Penguin Group (USA)
• Format: Hardcover 336pp
With her knack for being in trouble's way, Sookie witnesses the firebombing of Merlotte's, the bar where she works. Since Sam Merlotte is now known to be two-natured, suspicion falls immediately on the anti-shifters in the area. Sookie suspects otherwise, but her attention is divided when she realizes that her lover Eric Northman and his "child" Pam are plotting to kill the vampire who is now their master. Gradually, Sookie is drawn into the plot-which is much more complicated than she knows. Caught up in the politics of the vampire world, Sookie will learn that she is as much of a pawn as any ordinary human - and that there is a new Queen on the board...
(Personal note: I am
extremely
pumped to read this novel! I thought the last one was a tad boring for the series, so I have some high hopes for this one.)
(
Previous titles in series
: Dead Until Dark, Living Dead in Dallas, Club Dead)
Steven Tyler
-
Does the Noise in My Head Bother You?
• Pub. Date: May 3, 2011
• Publisher: HarperCollins Publishers
• Format: Hardcover 400pp
Does the Noise in My Head Bother You? is the rock memoir to end all rock memoirs—the straight-up, no-holds-barred life of Grammy Award-winning, Rock 'n' Roll Hall of Fame inductee, and all around superstar legend Steven Tyler, lead singer of Aerosmith (and celebrity judge on American Idol). This is it — "the unbridled truth, the in-your-face, up-close and prodigious tale of Steven Tyler straight from the horse's lips" — as Tyler tells all, from the early years through the glory days, "All the unexpurgated, brain-jangling tales of debauchery, sex & drugs. and transcendence you will ever want to hear."
Robert B. Parker
-
Sixkill (Spenser #39)
• Pub. Date: May 3, 2011
• Publisher: Penguin Group (USA)
• Format: Hardcover 304pp
On location in Boston, bad-boy actor Jumbo Nelson is accused of the rape and murder of a young woman. From the start the case seems fishy, so the Boston PD calls on Spenser to investigate. The situation doesn't look good for Jumbo, whose appetites for food, booze, and sex are as outsized as his name. He was the studio's biggest star, but he's become their biggest liability.
In the course of the investigation, Spenser encounters Jumbo's bodyguard: a young, former football-playing Native American named Zebulon Sixkill. Sixkill acts tough, but Spenser sees something more within the young man. Despite the odd circumstances, the two forge an unlikely alliance, with Spenser serving as mentor for Sixkill. As the case grows darker and secrets about both Jumbo and the dead girl come to light, it's Spenser-with Sixkill at his side-who must put things right.
(
Previous titles in series
: The Godwulf Manuscript, God Save the Child, Mortal Stakes)
James Patterson and Maxine Paetro
-
10th Anniversary (Women's Murder Club #10)
• Pub. Date: May 3, 2011
• Publisher: Little, Brown & Company
• Format: Hardcover 448pp
For every secret
Detective Lindsay Boxer's long-awaited wedding celebration becomes a distant memory when she is called to investigate a horrendous crime: a badly injured teenage girl is left for dead, and her newborn baby is nowhere to be found. Lindsay discovers that not only is there no trace of the criminals—but that the victim may be keeping secrets as well.
For every lie
At the same time, Assistant District Attorney Yuki Castellano is prosecuting the biggest case of her life—a woman who has been accused of murdering her husband in front of her two young children. Yuki's career rests on a guilty verdict, so when Lindsay finds evidence that could save the defendant, she is forced to choose. Should she trust her best friend or follow her instinct?
There's a different way to die
Lindsay's every move is watched by her new boss, Lieutenant Jackson Brady, and when the pressure to find the baby begins interfering with her new marriage to Joe, she wonders if she'll ever be able to start a family. With James Patterson's white-hot speed and unquenchable action, 10th Anniversary is the most deliciously chilling Women's Murder Club book ever.
(
Previous titles in series
: 1st To Die, 2nd Chance, 3rd Degree)
Rachel Caine
-
Bite Club (Morganville Vampires #10)
• Pub. Date: May 3, 2011
• Publisher: Penguin Group (USA)
• Format: Hardcover 352pp
• Age Range: Young Adult
After discovering that vampires populate her town, college student Claire Danvers knows that the undead just want to live their lives. But someone else wants them to get ready to rumble.
There's a new extreme sport getting picked up on the Internet: bare- knuckle fights pitting captured vampires against each other-or humans. Tracking the remote signal leads Claire- accompanied by her friends and frenemies-to discover that what started as an online brawl will soon threaten everyone in Morganville...
(
Previous titles in series
: Glass Houses, The Dead Girls' Dance, Midnight Alley)
Rex Ryan
-
Play Like You Mean It
• Pub. Date: May 3, 2011
• Publisher: Knopf Doubleday Publishing Group
• Format: Hardcover 288pp
Rex Ryan is known for his exuberance . . . and Play Like You Mean It explores every aspect of Ryan's amazing passion for the game of football, plus the lessons he has learned in leadership and motivation during his years in and around the game. In his own words, Ryan takes readers behind the scenes of the NFL as he shares colorful football stories from his experiences with the Jets and the Ravens as well as his years recruiting players, coaching college foot­ball, and growing up as a child of legendary NFL coach Buddy Ryan. Rex's unique brand of enthusiasm and motiva­tion comes through on every page.
Most of all, fans will get insider access to Ryan's headline-grabbing, brutally honest, and undeniably entertaining views on the NFL . . . and the very human side of the larger-than-life athletes who devote their lives to the game of foot­ball. From Ryan's acceptance of the Jets head coaching job to his success in turning around a team that has long been number two in New York, from his drafting and believing in Mark Sanchez to kicking off the 2010 season with massive expectations (and a target on his back)—this book goes deep, and entertains on every level.
Jen Lancaster
-
If You Were Here
• Pub. Date: May 3, 2011
• Publisher: Penguin Group (USA)
• Format: Hardcover 320pp
Told in the uproariously entertaining voice readers have come to expect from Jen Lancaster, If You Were Here follows Amish-zombie-teen-romance author Mia and her husband Mac (and their pets) through the alternately frustrating, exciting, terrifying-but always funny-process of buying and renovating their first home in the Chicago suburbs that John hughes's movies made famous. Along their harrowing renovation journey, Mia and Mac get caught up in various wars with the homeowners' association, meet some less-than-friendly neighbors, and are joined by a hilarious cast of supporting characters, including a celebutard ex- landlady. As they struggle to adapt to their new surroundings- with Mac taking on the renovations himself- Mia and Mac will discover if their marriage is strong enough to survive months of DIY renovations.
Betty White
-
If You Ask Me (And Of Course You Won't)
• Pub. Date: May 3, 2011
• Publisher: Penguin Group (USA)
• Format: Hardcover 256pp
Drawing from a lifetime of lessons learned, seven-time Emmy winner Betty White's wit and wisdom take center stage as she tackles topics like friendship, romantic love, aging, television, fans, love for animals, and the brave new world of celebrity. If You Ask Me mixes her thoughtful observations with humorous stories from a seven- decade career in Hollywood. Longtime fans and new fans alike will relish Betty's candid take on everything from her rumored crush on Robert Redford (true) to her beauty regimen ("I have no idea what color my hair is and I never intend to find out") to the Facebook campaign that helped persuade her to host Saturday Night Live despite her having declined the hosting job three times already.
Featuring all-new material, with a focus on the past fifteen years of her life, If You Ask Me is funny, sweet, and to the point-just like Betty White.
Veronica Roth
-
Divergent
• Pub. Date: May 3, 2011
• Publisher: HarperCollins Children's Books
• Format: Hardcover 496pp
• Age Range: Young Adult
In Beatrice Prior's dystopian Chicago, society is divided into five factions, each dedicated to the cultivation of a particular virtue—Candor (the honest), Abnegation (the selfless), Dauntless (the brave), Amity (the peaceful), and Erudite (the intelligent). On an appointed day of every year, all sixteen-year-olds must select the faction to which they will devote the rest of their lives. For Beatrice, the decision is between staying with her family and being who she really is—she can't have both. So she makes a choice that surprises everyone, including herself.
During the highly competitive initiation that follows, Beatrice renames herself Tris and struggles to determine who her friends really are—and where, exactly, a romance with a sometimes fascinating, sometimes infuriating boy fits into the life she's chosen. But Tris also has a secret, one she's kept hidden from everyone because she's been warned it can mean death. And as she discovers a growing conflict that threatens to unravel her seemingly perfect society, she also learns that her secret might help her save those she loves . . . or it might destroy her.
Dick Van Dyke
-
My Lucky Life In and Out of Show Business
• Pub. Date: May 3, 2011
• Publisher: Crown Publishing Group
• Format: Hardcover 304pp
His trailblazing television program, The Dick Van Dyke Show (produced by Carl Reiner, who has written the foreword to this memoir), was one of the most popular sitcoms of the 1960s and introduced another major television star, Mary Tyler Moore. But Dick Van Dyke was also an enormously engaging movie star whose films, including Mary Poppins and Chitty Chitty Bang Bang, have been discovered by a new generation of fans and are as beloved today as they were when they first appeared. Who doesn't know the word supercalifragilisticexpialidocious?
A colorful, loving, richly detailed look at the decades of a multilayered life, My Lucky Life In and Out of Show Business, will enthrall every generathttp://www.blogger.com/img/blank.gifion of reader, from baby-boomers who recall when Rob Petrie became a household name, to all those still enchanted by Bert's "Chim Chim Cher-ee." This is a lively, heartwarming memoir of a performer who still thinks of himself as a "simple song-and-dance man," but who is, in every sense of the word, a classic entertainer.
Aprilynne Pike
-
Illusions (Wings/Laurel #3)
• Pub. Date: May 3, 2011
• Publisher: HarperCollins Publishers
• Format: Hardcover 384pp
• Age Range: Young Adult
Laurel hasn't seen Tamani since she begged him to let her go last year. Though her heart still aches, Laurel is confident that David was the right choice.
But just as life returns to normal, Laurel realizes that a hidden enemy lies in wait. Once again, Laurel must turn to Tamani to protect and guide her, for the danger that now threatens Avalon is one that no faerie thought would ever be possible. And for the first time, Laurel cannot be sure that her side will prevail.
(
Previous titles in series
: Wings, Spells)
Rick Riordan
-
The Throne of Fire (Kane Chronicles #2)
• Pub. Date: May 3, 2011
• Publisher: Hyperion Books for Children
• Format: Hardcover 464pp
• Age Range: 9 to 11
Ever since the gods of Ancient Egypt were unleashed in the modern world, Carter Kane and his sister Sadie have been in trouble. As descendants of the House of Life, the Kanes have some powers at their command, but the devious gods haven't given them much time to master their skills at Brooklyn House, which has become a training ground for young magicians.
And now their most threatening enemy yet - the chaos snake Apophis - is rising. If they don't prevent him from breaking free in a few days' time, the world will come to an end. In other words, it's a typical week for the Kane family.
Narrated in two different wisecracking voices, featuring a large cast of new and unforgettable characters, and with adventures spanning the globe, this second installment in the Kane Chronicles is nothing short of a thrill ride.
Chloe Neill
-
Hard Bitten (Chicagoland Vampires #4)
• Pub. Date: May 3, 2011
• Publisher: Penguin Group (USA)
• Format: Paperback 368pp
Chicago is beset by supernatural tensions, and Merit-vampire protector of a safe haven called Cadogan house-is worried that the humans will be reaching for their pitchforks any minute. It doesn't help that yet another vampire rave is broken up by the mayor, and a new inhibition- reducing drug is circulating through the community.
It's up to Merit to put her house in order-literally. And if that takes getting a little blood on her hands, so be it.
(Previous titles in series
: Some Girls Bite, Friday Night Bites, Twice Bitten)