Here are some good new releases coming up tomorrow! Some are part of a series already, so I'll try to include previous titles in order (only the first
three
) so no one accidentally reads something out of order. I don't know about you, but I don't like it when that happens! :o) However, you can click on 'previous titles in series' and it will take you to Goodreads where you can see them all!
Meg Cabot
-
Abandon
• Pub. Date: April 26, 2011
• Publisher: Scholastic, Inc.
• Format: Hardcover 320pp
• Age Range: Young Adult
New from #1 New York Times bestselling author Meg Cabot, a dark, fantastical story about this world . . . and the underworld.
Though she tries returning to the life she knew before the accident, Pierce can't help but feel at once a part of this world, and apart from it. Yet she's never alone . . . because someone is always watching her. Escape from the realm of the dead is impossible when someone there wants you back.
But now she's moved to a new town. Maybe at her new school, she can start fresh. Maybe she can stop feeling so afraid.
(This is set to be a
trilogy
, and I'm very excited!)
Jenny Han
-
We'll Always Have Summer (Summer #3)
• Pub. Date: April 26, 2011
• Publisher: Simon & Schuster Children's Publishing
• Format: Hardcover 304pp
• Age Range: Young Adult
Belly has only ever been in love with two boys, both with the last name Fisher. And after being with Jeremiah for the last two years, she's almost positive heis her soul mate. Almost. Conrad has not gotten over the mistake he made when he let Belly go even as Jeremiah has always known that Belly is the girl for him. So when Belly and Jeremiah decide to make things forever, Conrad realizes that it's now or never--tell Belly he loves her, or lose her for good.
Belly will have to confront her feelings for Jeremiah and Conrad and face a truth she has possibly always known: she will have to break one of their hearts.
(
Previous titles in series
: The Summer I Turned Pretty, It's Not Summer Without You)
Stuart Woods
-
Bel-Air Dead (Stone Barrington #20)
• Pub. Date: April 26, 2011
• Publisher: Penguin Group (USA)
• Format: Hardcover 304pp
Stone Barrington receives a rather unexpected phone call from Arrington Calder, the ex-girlfriend with whom he has a son. Arrington's much older husband, the actor Vance Calder, has just died, leaving her a fortune in Centurion Studios stock. Arrington has plans for the money and asks Stone to represent her in the sale of the company. But when he arrives at her home in Bel-Air to finalize the deal, things take a nasty turn. It seems many of Hollywood's rich and beautiful have Arrington and Centurion in their sights, and Stone finds himself dragged into a surprisingly deadly web of intrigue.
(
Previous titles in series
: New York Dead, Dirt, Dead in the Water)
Debbie Macomber
-
A Turn in the Road (Blossom Street #8)
• Pub. Date: April 26, 2011
• Publisher: Mira
• Format: Hardcover 336pp
In the middle of the year, in the middle of her life, Bethanne Hamlin takes a road trip with her daughter, Annie, and her former mother-in-law, Ruth.
So there they are, three women driving across America. They have their maps and their directions—but even the best-planned journey can take you to a turn in the road. Or lead you to an unexpected encounter—like the day Bethanne meets a man named Max who really is a hero on a Harley. That's when Bethanne's decision becomes a lot harder. Because Grant wants her back, but now there's Max….
From Seattle's Blossom Street to the other end of the country, this is a trip that could change three women's lives.
(
Previous titles in series
: The Shop on Blossom Street, A Good Yarn, Susannah's Garden)
Maureen Johnson
-
The Last Little Blue Envelope (Little Blue Envelope #2)
• Pub. Date: April 26, 2011
• Publisher: HarperCollins Publishers
• Format: Hardcover 288pp
• Age Range: Young Adult
Ginny Blackstone thought that the biggest adventure of her life was behind her. She spent last summer traveling around Europe, following the tasks her aunt Peg laid out in a series of letters before she died. When someone stole Ginny's backpack—and the last little blue envelope inside—she resigned herself to never knowing how it was supposed to end.
Months later, a mysterious boy contacts Ginny from London, saying he's found her bag. Finally, Ginny can finish what she started. But instead of ending her journey, the last letter starts a new adventure—one filled with old friends, new loves, and once-in-a-lifetime experiences. Ginny finds she must hold on to her wits . . . and her heart. This time, there are no instructions.
(
Previous titles in series
: 13 Little Blue Envelopes)
Christine Feehan
-
Savage Nature (Leopard People #5)
• Pub. Date: April 26, 2011
• Publisher: Penguin Group (USA)
• Format: Mass Market Paperback 400pp
Danger lurks in the shadows and desire shimmers in the sultry heat as leopard shifter Drake Donovan is sent to a Louisiana bayou to investigate a murder. He's ready for anything except the insatiable hunger that rocks him when he meets Saria Boudreaux, a woman with a compelling motive-and ability-to distract him from the task at hand...
(
Previous titles in series
: The Awakening, Wild Rain, Burning Wild)
Sherryl Woods
-
Moonlight Cove (Chesapeake Shores #6)
• Pub. Date: April 26, 2011
• Publisher: Mira
• Format: Mass Market Paperback 384pp
Jess O'Brien has overcome a lot—the challenges of attention deficit disorder, the near bankruptcy of her beloved Inn at Eagle Point and her self-perception as a screwup in a family of overachievers. Now she's ready to share the future with a man. Her friends persuade her to join a dating service—but she gets no takers! Which is fine with her childhood friend, psychologist Will Lincoln, who's already chosen the perfect man for Jess: himself.
(
Previous titles in series
: The Inn at Eagle Point, Flowers on Main, Harbor Lights)
Rachel Gibson
-
Any Man of Mine
• Pub. Date: April 26, 2011
• Publisher: HarperCollins Publishers
• Format: Mass Market Paperback 384pp
What happens in Vegas . . . doesn't always stay there.
Autumn Haven's Las Vegas "to-do" list said to catch a show and play the slots—not wake up married to a sexy jerk like Sam LeClaire. The first moment she saw him eyeing her like a luscious piece of the dessert buffet, her usually responsible self told her to run. And she did—right into the wildest fantasy weekend of her life. But Monday morning jolted her back to reality, and before she could say "pass the coffee," Sam was gone.
Now a successful wedding planner, Autumn hasn't clapped eyes on the heartbreaking hockey superstar for over two years . . . until she organizes his teammate's "Special Day," where Sam makes a big play to pick up where he left off! But she has vowed any man of hers plays for keeps. Is Sam the man for her or does she banish him to the sin bin forever?
(The cover alone makes me want to read this.. lol)
Sherrilyn Kenyon
-
Born of Shadows (The League #5)
• Pub. Date: April 26, 2011
• Publisher: Grand Central Publishing
• Format: Hardcover 432pp
For Caillen Dagan, a defiant soldier of fortune, survival isn't a right, it's a brutal daily battle. Moving through the Ichidaian universe like a wraith, his brushes with the law and death are legendary. But when an act of rare heroism reveals his hidden birthright, he's forced into a world much more dangerous and cold-hearted than the bloody streets where he was raised-one of obscene wealth and lethal politics.
Ferocious and determined, Desideria serves as an official bodyguard for her queen. Born of questionable genetics, she will do anything to prove herself worthy of the weapons she carries and the position she's won by combat. But when she uncovers a ruthless plot to assassinate the queen and overthrow her country's government, Desideria is caught in the crosshairs.
With assassination contracts out on both of them, Caillen and Desideria must learn to fight together or die alone. And if they fail, their governments will fall into the hands of an unimaginable evil.
(
Previous titles in series
: Born of Night, Born of Fire, Born of Ice)
Candace Bushnell
-
Summer and the City (Carrie Diaries #2)
• Pub. Date: April 26, 2011
• Publisher: Balzer + Bray
• Format: Hardcover 416pp
• Age Range: Young Adult (
really??
)
This sequel to The Carrie Diaries brings surprising revelations as Carrie learns to navigate her way around the Big Apple, going from being a country "sparrow"—as Samantha Jones dubs her— to the person she always wanted to be. But as it becomes increasingly difficult to reconcile her past with her future, Carrie realizes that making it in New York is much more complicated than she ever imagined.
(
Previous titles in series
: The Carrie Diaries)
Jennifer Estep
-
Tangled Threads (Elemental Assassin #4)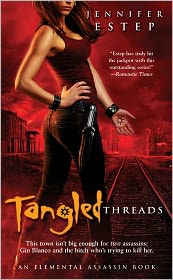 • Pub. Date: April 26, 2011
• Publisher: Simon & Schuster Adult Publishing Group
• Format: Mass Market Paperback 384pp
I'd rather face a dozen lethal assassins any night than deal with something as tricky, convoluted, and fragile as my feelings.
But here I am. Gin Blanco, the semi-retired assassin known as the Spider. Hovering outside sexy businessman Owen Grayson's front door like a nervous teenage girl. One thing I like about Owen: he doesn't shy away from my past—or my present. And right now I have a bull's-eye on my forehead. Cold-blooded Fire elemental Mab Monroe has hired one of the smartest assassins in the business to trap me. Elektra LaFleur is skilled and efficient, with deadly electrical elemental magic as potent as my own Ice and Stone powers. Which means there's a fifty-fifty chance one of us won't survive this battle. I intend to kill LaFleur—or die trying—because Mab wants the assassin to take out my baby sister, Detective Bria Coolidge, too. The only problem is, Bria has no idea I'm her long-lost sibling . . . or that I'm the murderer she's been chasing through Ashland for weeks. And what Bria doesn't know just might get us both dead...
(
Previous titles in series
: Spider's Bite, Web of Lies, Venom)